Launch titles may give Xbox Series X an early edge over PS5, leaks claim
The next-gen console war is already heating up.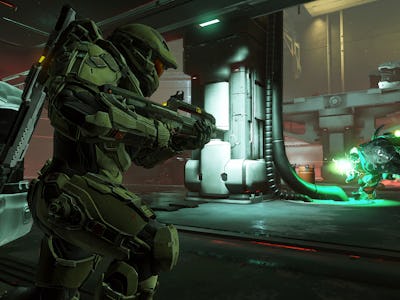 Microsoft
The next-generation of consoles is slowly coming into focus. The Game Awards saw the official reveal of the Xbox Series X and one of the first games that will release for Sony's PlayStation 5. While both console giants still have a lot more to reveal ahead of next fall's big hardware drop, Microsoft might have an edge right off the bat, with a more robust stable of launch games.
Games YouTuber Anton Logvinov, who accurately predicted the Senua's Saga: Hellblade 2 reveal at the latest Game Awards, claims the Xbox Series X will have more launch titles than the PS5. Logvinov cited an anonymous "insider" in two tweets on December 12, claiming Microsoft's early game roster will outclass Sony's. If his prediction is accurate, the PS5 might heavily rely on remastered versions of late-gen PS4 games, which makes a lot of sense given what we know about Sony's 2020 plans so far.
"They say that Sony will have nothing but Ghost of Tsushima, [the] updated Last of Us 2, and Death Stranding at the start of the PS5," he wrote. "[The] Xbox Series X will have 12 to 16 exclusive[s] at launch."
A strong start to the next-gen of consoles would greatly benefit Microsoft, who has lagged behind Sony and Nintendo in the current console generation. Sony has sold more than 96.8 million PS4 units worldwide as of mid-2019. Despite coming out more than three years later, the Nintendo Switch has already outsold Xbox One, with roughly 46 million units sold worldwide.
Starting the Series X on the right foot will be pivotal for Microsoft. But even if Logvinov proves to be correct, Sony has a massive roster of exclusive IPs that might not launch alongside the PS5 but will undoubtedly make a splash later in its lifespan.
Here's everything we know about the the launch titles for the Xbox Series X and PS5 so far:
Xbox Series X expected launch titles
Halo Infinite will be the Xbox Series X's marquee launch title, MIcrosoft confirmed at E3 2019. More recently, the company showed off a blood-curdling teaser for Senua's Saga: Hellblade 2 and a trailer for EVERWILD, a brand-new IP that looks like a highly stylized fantasy adventure.
A new installment of Forza Motorsport is also widely expected to be a launch title for Xbox Series X, after the franchise's 2019 hiatus. The racing simulator has been an Xbox staple since 2005 and Microsoft Game Studios has already teased it's cooking up a new racing game.
Those are the only Series X launch titles we have strong evidence for, though there have been hints that a new installment of Fable could be on the horizon as well.
Logvinov said Microsoft would at least triple this count, so the company could be preparing for a massive batch of reveals in the year ahead.
PS5 expected launch titles
The new Gearbox IP Godfall was revealed at TGA to be one of the first PS5. Bluepoint Games has also teased that it's working on a Sony exclusive that might end up being a remastered collection of popular titles. But other than those two, the early days of the PS5 will seemingly rely on remasters.
The Last of Us Part 2, Ghost of Tsushima, and Final Fantasy VII Remake have all been confirmed to be launched on the PS4, months before the PS5 is expected to be launched. Sony has a history of remastering its exclusives, like The Last of Us, for its newer consoles. It seems like an obvious move to do the same for these three heavy-hitting titles.
But even with a slightly lighter roster of launch titles, the PS5 has a strong future ahead of it. Horizon Zero Dawn 2 and a sequel to Marvel's Spider-Man have yet to be announced, but are essentially guaranteed.
So while Microsoft might have an early edge, it will have to consistently release bangers to keep up with the titles that won Sony the console war with the PS4.
The Xbox Series X and PS5 are both expected to launch in the holiday season of 2020.