Major League Baseball decision could fundamentally change sports drug policy
The League is prioritizing treatment over punishment.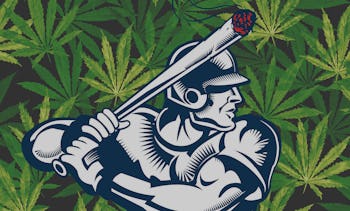 Shutterstock
Professional baseball players can now smoke marijuana without fear of penalty. The decision to remove marijuana from Major League Baseball's list of banned substances marks a shift away from more rigid disciplinary action and is a major change for a sport that had long-banned the drug.
It's also part of a policy overhaul that takes a treatment over punishment approach and spotlights a more dangerous drug than marijuana: opioids.
On Thursday, the MLB and MLBPA announced that "natural cannabinoids", including marijuana and CBD, are no longer banned. Additionally, suspensions for using marijuana will be dropped from the minor league drug program.
The move mirrors a sports-wide shift in the way organizations treat weed and CBD, substances many athletes use for pain relief from sports injuries.
MLB is also changing the way it addresses other substances use, including opioids and cocaine, offering the option to get treatment before facing disciplinary action. By 2021, all players and club personnel will be required to attend educational programs on the "dangers of opioid pain medications and practical approaches to marijuana."
The decision was in response to the growing controversy over drug use in professional sports and the drug-related death of Los Angeles Angels pitcher, Tyler Skaggs. In July, Skaggs was found dead in his hotel room with traces of fentanyl and oxycodone in his system.
Previous to this policy change, the MLB did not require opioid testing for major league players.
Marijuana moves
Now, natural cannabinoids like CBD, THC, and weed will no longer be included in drug tests and will be treated like alcohol. If players exhibit harmful marijuana-related conduct, they will be evaluated, potentially recommended treatment, and subject to discipline from their organization's leadership. Prior to this policy change, minor league players could be tested and suspended for repeated use.
Muscle tears, rotator cuff problems, and joint issues are some of the common injuries that come with a career playing baseball at the highest level. An increasing number of athletes are turning to marijuana and CBD — instead of addictive opioids — to manage pain.
The new policies follow a hot debate about marijuana in professional sports. Other sports leagues like the National Hockey League (NHL) and the National Football League (NFL) have taken similar steps around drug use.
The NHL doesn't punish players who test positive for marijuana but would recommend treatment if a player has "abnormally high levels" of THC in their system, Fox News reports.
The NFL and National Football League Players Association also recently created medical committees exploring how players are using marijuana as a pain management tool.
At the same time, other sports organizations like the National Basketball Association (NBA) and Ultimate Fighting Championship (UFC) still ban marijuana use.
Treatment over punishment
Across the board, the MLB and the MLBPA are taking a "treatment-based approach" meaning that players who test positive for prohibited substances are referred to treatment before facing disciplinary action. They will have the opportunity to get help before being punished.
In the past, the players were tested for performance-enhancing substances like steroids and banned substances under their Joint Drug Treatment and Prevention Program. Now they'll additionally be tested for opioids, cocaine, and synthetic forms of THC, like Spice.
"The opioid epidemic in our country is an issue of significant concern to Major League Baseball," MLB Deputy Commissioner & Chief Legal Officer Dan Halem said. "It is our hope that this agreement —which is based on principles of prevention, treatment, awareness, and education — will help protect the health and safety of our players."
The new drug policies will take effect when next year's spring training kicks off.