'Overwatch' Winter Wonderland 2019' start time and leaked skins (full list)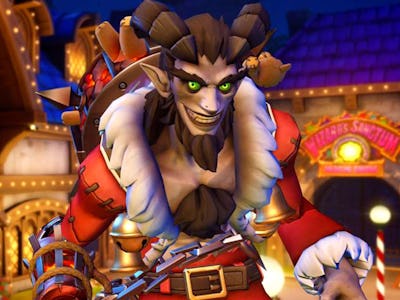 Blizzard
Christmas came slightly early for Overwatch fans. The 2019 Winter Wonderland event was set to launch worldwide at 1 p.m. Eastern time with a roster of new skins, sprays, other in-game cosmetics, and game modes. But a trailer for the event (typically released at launch) leaked hours before the drop.
Overwatch leaker Naeri tweeted the full French version of the trailer Tuesday morning, revealing all of the new rewards Blizzard will release for the three-week event. There appear to be seven new epic skins, include the World of Warcraft inspired Sigma avatar Blizzard revealed Monday afternoon.
The event will last until January 2 with three weekly challenges that will let players unlock certain epics skins if they complete the objective. We'll need to wait for the game to be updated to see how these will work but expect them to be similar to the Ana Bastet challenge, when users had to win nine games total to unlock an epic skin.
Overwatch Winter Wonderland 2019 skins
Here are all of the 2019 Winter Wonderland skins that will be released:
Jotun Doomfist is clad in Viking armor with an icy talon as a hat tip to the Jötunn, mythical frost giants in Norse mythology.
Rat King Reaper is a riff on the Mouse King, the villain in the Christmas story The Nutcracker.
Rime Sigma is inspired by the Death Knight class in World of Warcraft. These undead warriors are able to stop their enemies dead in their tracks using frost magic.
Ugly Christmas Sweater Solider: 76 is dawning an extremely dad sweater.
Elf Moira is dressed in red and green, like one of Santa Clauses' helpers complete with green hair.
Hunter McCree has white hair, old-fashioned winter clothing, and a wolf pelt as a cap.
Snow Angel Mercy is fully decked out in icy-colored gear.
The Soldier: 76 (week one), Moria (week two), and Mercy (week three) skins will be unlockable through the weekly events. After that players will need to buy them with in-game gold earned by playing matches. So don't to miss the time window if you want to easily snag one of these skins.
Winter Wonderland 2019 will also come with a myriad of new emotes, victory screens, sprays, and icons that the leaked trailer didn't list off. The even will also go live with the patch 1.43, which will heavily nerf shields across the board and introduce a couple of new game mode options while players wait in matchmaking queues.
This will be the fourth Winter Wonderland event for Overwatch and just like every year before, players will be able to unlock all of the winter skins that were released years prior.
Winter Wonderland 2019 is scheduled to go live at 1 p.m. Eastern time across all platforms.