'Jumanji: The Next Level' review: It's the DLC expansion pack of sequels
'Jumanji' is still plenty of fun, but in diminishing doses.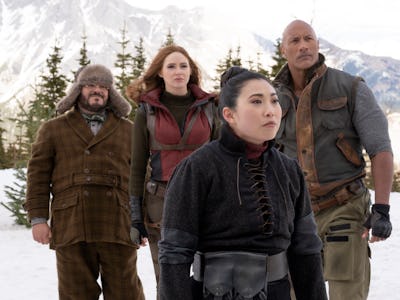 Sony Pictures
Feeling less like a proper sequel and more like a video game expansion, with new settings, characters, and a quest to complete, Jumanji: The Next Level from director Jake Kasdan does the bare minimum to recapture the bottled lightning of its 2017 predecessor. Overly long and reliant on the waning strength of its charismatic leads, Jumanji is still plenty of fun, but in alarmingly diminishing doses.
Dwayne Johnson, Karen Gillan, Jack Black, Kevin Hart, and Nick Jonas return as their digital avatars in Jumanji: The Next Level, this time joined by Awkwafina as "Ming," a cat thief. Set two years after Welcome to the Jungle, it's Christmas break for college freshmen Spencer (Alex Wolff), Bethany (Madison Iseman), Fridge (Ser'Darius Blain), and Martha (Morgan Turner) when they reunite. These kids warmly kept up the friendship they forged in the first film, but Spencer has lost confidence in himself, once again a social runt at NYU.
His stubborn grandfather, Eddie (Danny DeVito), is rooming with him, keeping him awake, so Spencer digs up the forbidden game Jumanji, hoping to become the brawny Dr. Bravestone (Johnson) once more. With Spencer in danger, his friends reluctantly reenter Jumanji — with Eddie and his estranged best friend, Milo (Danny Glover), accidentally joining them.
Taking a "same is more" approach to the sequel, The Next Level does little to build atop the foundations of Jungle. Instead, it's the same movie, the same recipe for cake, tweaked to create an illusion of freshness. A body switch has Johnson and Hart doing impressions of Danny DeVito and Danny Glover (Johnson's DeVito is abysmal; Hart's Glover is pretty damn funny) while new character avatars, including a horse, lend an air of the unexpected.
But it's all smokescreen. The Next Level is a shameless but harmless retread kept afloat because of the deep well of magic this all-star cast can conjure. It's the DLC of movies: It's the same characters, plus a couple of new ones, new costumes, new quests, and a new map to explore. But it's the same game, and no amount of dressing actually changes anything.
Killer chemistry doesn't stop the action set pieces from being overproduced. The comedy isn't any less corny, and it doesn't improve the film's most crucial through line — it's a tough ask to get invested in two characters with tension when said characters look and sound like Kevin Hart and Dwayne Johnson, and end the film looking and sounding like Awkwafina and a horse — but the killer chemistry of an extremely watchable cast helps mitigate Jumanji's worst problems.
Johnson and Hart are, again, the MVPs who carry the film the most, although a wildly impressive Karen Gillan shines in spite of them. (She also has the benefit of having one "true" player for most of the runtime.) So much of this movie rests on Johnson and Hart making faces with each other. Johnson, in particular, makes bizarre choices in his performance as an East Coast Jewish man aging in the Midwest. (It's even more noticeable when Awkwafina pulls it off with uncanny ease.)
The one wise call The Next Level makes over Welcome to the Jungle is in its emphasis on Gillan. The Next Level is Gillan's movie to own, and she does it with gusto whilst swinging nunchucks.
Jumanji became Hollywood's surprise new franchise when it grossed close to a billion two years ago. With The Next Level, the series establishes itself as one the safest, with an endlessly renewable concept that has a thousand forms to evolve (imagine this for a spin-off: Jumanji: The Live-Service Massively Multiplayer Online Game) and the perfect formula for casting new stars in sequels. Internally, the specter of death only lurks while never once reaping a soul. People complain the Marvel movies are bloodless, but no one has ever, and probably will never, die in Jumanji. Maybe nothing will.
Like its predecessor, Jumanji: The Next Level is a guaranteed money maker. It does all the right things, the same things, at the right time in the calendar year. So long as Dwayne Johnson and Kevin Hart are game to keep making fools of themselves (and Karen Gillan continues to upstage them) for a wide, multilingual audience, the world will keep screaming "Jumanji."
A reboot series that doesn't shamelessly hack nostalgia? Game-changer. It's just unfortunate that the game itself may never change. 
Jumanji: The Next Level releases in theaters on December 13.