'Ghostbusters: Afterlife' trailer channels Star Wars in the worst way possible
  As if forgetting that 'Ghostbusters' was a comedy, the new trailer overly mythologizes the original films as if to make fans forget the 2016 reboot.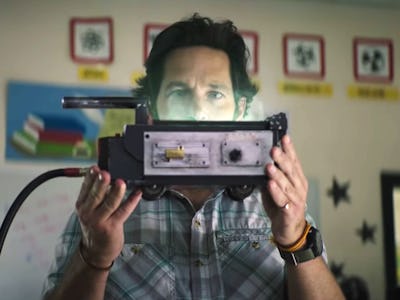 Columbia Pictures
There has been an awakening. Can you feel it? No, it's not Star Wars: The Rise of Skywalker. It's the trailer for Ghostbusters: Afterlife, the long-awaited third movie in the Ghostbusters film series (which sidesteps the 2016 reboot entirely) that bears a comical resemblance to 2015's Star Wars: The Force Awakens, right down to the triumphant joyride of an all-too iconic vehicle.
On Monday, Sony Pictures released the trailer for Ghostbusters: Afterlife, a new Ghostbusters sequel directed by Jason Reitman, son of original director Ivan Reitman. The film will release in theaters on July 10, 2020.
Set in rural Oklahoma, a struggling family of three moves into an old inherited farmhouse and unearth a trove of discarded gadgets and gizmos used to catch ghosts in 1980s New York. These tools will come useful when a series of strange phenomena begin to sweep through this sleepy town.
Starring Carrie Coon, Finn Wolfhard, Mckenna Grace, and Paul Rudd as a school science teacher, these new characters essentially train themselves to become Ghostbusters. And unlike the capitalist fantasy of starting up a business in New York (complete with a lo-fi TV commercial) and sticking it to the EPA, these characters will learn the Force how to catch ghosts in emotionally dramatic fashion.
If you thought, "Ghostbusters shouldn't be funny, it should be serious," congrats, Ghostbusters: Afterlife is for you. As if forgetting that Ghostbusters was a star-studded comedy, the junior Reitman's film looks grim and overly sentimental. Based on the trail, it mythologizes the past (literally, it seems no one but conspiracy theorists like Paul Rudd's character remember the Ghostbusters) and puts too much stock into descendants of familiar characters.
It is, in essence, The Force Awakens for Ghostbusters. Except unlike Star Wars' willingness to break from the past (such as in the case of Rey and her parentage), Ghostbusters: Afterlife is going hard in the other direction, with these kids apparently being the grandchildren of the late Harold Ramis' Egon Spengler.
Look, I love and miss Harold Ramis too, but come on.
Similarities to new-era Star Wars don't end there. The trailer's score sounds eerily like John Williams' Force Awakens music, while the shot of the kids driving the Ecto-1 in an open field looks so much like the Millennium Falcon soaring through the skies after so many years of being "garbage."
What sucks about Afterlife is that, as fun (but not funny) as it looks, it looks like a movie made to please angry dudes who railed against the 2016 reboot years ago. Because that movie had no connections to the original and had the audacity to star women, this one has characters related to the originals and remembers the Ghostbusters as superheroes, not opportunistic exiles from academia who struck it semi-rich in the private sector.
I genuinely love all things Ghostbusters and I'm looking forward to Afterlife. A rural setting with a Steven Spielberg-esque coming of age story looks different enough from Ghostbusters, Ghostbusters II, and Ghostbusters (2016) to pique my interest and not make me feel like I'm being duped into watching the same story for the fourth time. Still, I can't help but feel there's a very crucial spirit that's missing in all of this.
Ghostbusters: Afterlife will release in theaters on July 10, 2020.