'Silicon Valley' finale cameo creates a 'Parks and Rec' shared universe
Perd Hapley, tech reporter?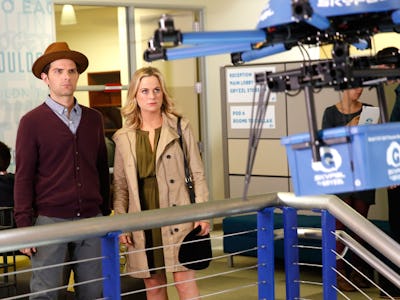 NBC
HBO's Silicon Valley came to an end last night in a surprisingly sentimental series finale. Shot in a mix of documentary-style (where the characters and real-life tech moguls reflected on Pied Piper's legacy) and the show's typical sitcom format, the final episode used multiple newscasts to tells its story, and one of them included a familiar face from another wildly popular sitcom.
Spoilers ahead of the series finale of Silicon Valley.
Early in the episode, as the Pied Piper team prepares to officially launch their AT&T partnership, a series of fictional newscasts play to emphasize what a big deal this is. And included among them is one clip featuring Jay Jackson, who Parks and Rec fans will remember as the simple-minded local newscaster Perd Hapley.
So does this mean Silicon Valley and Parks and Rec take place in a shared universe? It's not as ridiculous as you might think. After all, the NBC sitcom's final season did jump forward to the "near-future" of 2017, revealing a version of Pawnee, Indiana filled with delivery drones, holograms, and private space travel. So, in a way, the world of Parks and Rec is even more technologically advanced than Silicon Valley, which ends with Pied Piper's compression technology failing dramatically after it summons hordes of rats instead of boosting network speeds. (This was actually intentional after the team basically invented Skynet, but we don't really have time to get into that here.)
It's easy to imagine a company like Gryzzl from Parks and Rec existing in the HBO series alongside real tech giants like Microsoft and fake ones like Hooli. And after Pied Piper fails (and the CEO of its primary rival, YaoNet, ends up in jail), maybe Gryzzl even steps in and strikes a deal of its own with AT&T.
Then again, Jackson has actually played a newscaster in a ton of shows and movies, from Battleship to Dexter to Fast Five. So this isn't a particularly rare occurrence, it's just what he does. Hold up, did we just invent the Perd Cinematic Universe?
Despite his many cameos, fans still recognize Jackson from Parks and Rec. So it's no surprise that Perd Hapley fans (or "Perd-verts," as the character calls them) were celebrating his Silicon Valley cameo on Twitter when the episode aired.
Where can Perd-verts expect to see the actor next? His IMDb doesn't currently list any upcoming roles, but for an extra dose of Perd Hapley, fans should check out Netflix's 2019 original series *What/If," where Jackson plays (what else?) a local news anchor.
Now, as Perd himself might say, the story of this story is that it's over.