'Akira' Could Be a Trilogy Overseen by Christopher Nolan
Who in Hollywood can interpret Japan's neo-noir nuclear isolationism?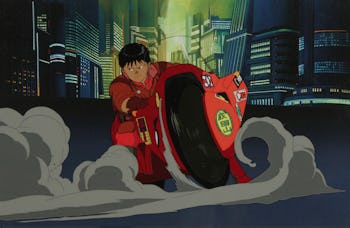 www.flickr.com/photos/sescsp/
The live-action Hollywood adaptation of Katsuhiro Otomo's 1988 dystopian sci-fi classic Akira has been in development hell for years, and for a long time it looked doomed to stay there. It would just rot away in unmade, unfinished limbo.
However, Den of Geek is reporting that Interstellar and Batman Begins Director Christopher Nolan is now attached to the project as a producer, which Warner Bros. hopes will span a trilogy.
In 2015, that's not surprising. Trilogies put food on the marble tables of private jets. But what is surprising is what Den of Geek is alluding to:
Most intriguingly of all, we're told that Christopher Nolan has met with a previously attached filmmaker (who we can't name here) within the past three months to talk about the project.
"Previously attached filmmaker" can be literally anybody at this point.
In 2002, Steve Norrington (Blade, League of Extraordinary Gentlemen, yes that's how far back this story goes) was attached to write and direct the film. Norrington purported his version would preserve "the tone, the visual and the epic scope of the original whilst telling a somewhat more accessible story." This raised eyebrows, because of just how unaccessible — and thus, provocative — Akira was.
Norrington was never heard from again.
In 2008, Irish filmmaker Ruairi Robinson was to make his feature debut with Akira, using a script written by Book of Eli screenwriter Gary Whitta. Around this time Leonardo DiCaprio got in on the action to produce the feature using his production company. The film was also turned into a two-picture deal, which would span all six volumes of the original manga. Today, DiCaprio is still on board to produce.
At some point in the following year, Whitta admitted he hadn't worked on the project in about a year before Children of Men screenwriters Mark Fergus and Hawk Otsby were approached for their draft of the script. They also wrote Iron Man, which its stars said was almost entirely improvised.
Fast forward to November 2010, /Film reported Albert Hughes of the Hughes Brothers (Menace II Society, From Hell) was to direct the film starring teen heartthrob Zac Efron as the film's lead, Kaneda. This was before Efron's current maturation into a bonafide comedy actor and still carried the tween stigma, which caused typical internet rage over Hollywood's futile effort to make Akira their own. Along with Efron, Morgan Freeman was rumored to play the hard-nosed Colonel Shikishima.
In early 2011, Hughes was off the project as was Efron, replaced by Spanish action filmmaker Jaume Collet-Sera (Non-Stop, Run All Night) and Tron: Legacy star Garrett Hedlund locked in as Kaneda. It wasn't long until Ken Watanabe and Twilight star Kristen Stewart were also sent floating around the project.
And then… nothing. In March of this year, Collider spoke to Collet-Sera who didn't discuss updates because there was nothing to discuss. Warner Bros. wanted the budget to amount to a safe $60-$70 million. Hughes' proposed budget was a bloated $180 million, and Collet-Sera could only manage $90 million. Said to be taking "a vacation" after his film Run All Night, Collet-Sera deflected Akira questions, saying plainly "it's a Warner Bros. question."
That brings us to today. Christopher Nolan is reportedly now on board to produce alongside Leonardo DiCaprio, his company still attached. Any of the aforementioned talents — from Norrington to Collet-Sera — are likely to helm the fabled Akira, should Den of Geek be believed and things just, finally, for once, work out.