Arnold Schwarzenegger Replaces Donald Trump as Host of the Celebrity Apprentice
Will "You're terminated" replace "You're fired?"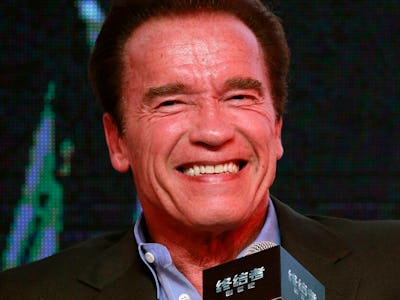 Getty
The Celebrity Apprentice will finally be associated with a successful politician as two-term California Gov. Arnold Schwarzenegger takes over hosting duties for the show's next incarnation.
"We are thrilled to be opening a powerful new chapter in the story of the Apprentice franchise," said Paul Telegdy, president of alternative and late night programming for NBC Entertainment. "Arnold Schwarzenegger is the epitome of a global brand in entertainment and business, and his accomplishments in the political arena speak for themselves."
Schwarzenegger takes over for Donald Trump, who fired himself by entering the presidential race and thereby disqualifying himself from hosting a show under equal time laws, though if you want to give NBC credit for finally taking a stand against his racist gibberish, the Peacock execs would probably be fine with that. Trump has since showed up on The Tonight Show, and is seeing how long he has to keep 20 percent of the Republican voter based hostage up before the establishment is forever indebted to him for walking away from the race.
Schwarzenneger's recent films haven't exactly recaptured his 80s box office glory, but this still feels like a surprising get for NBC. Would the Kindergarden Cop have made this deal if the latest Terminator movie had been a bigger hit outside of China? Will we get another Terminator movie? Is the script for that rumored Twins sequel with Eddie Murphy just not there yet?
Though no official announcement has been made, Vegas odds on Schwarzenneger replacing Trump's "You're fired!" with "You're terminated!" are probably running about 2-1, though recycling his Mr. Freeze puns would be refreshingly unexpected. "Omarosa, I'm sending you to the cooler."