'No Time to Die' trailer hints the next 007 won't be "James Bond"
The final Daniel Craig movie may have already revealed Bond's replacement as 007.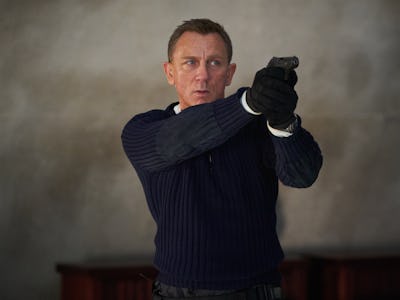 Universal Pictures
The end of Daniel Craig's time as James Bond is imminent, and that's no more apparent than in the trailer for No Time to Die. The fifth and final film with Craig as Ian Fleming's famous super-spy sets up not a new James Bond, but a potential new 007 agent who might drive Bond right into retirement.
On Wednesday, MGM and Universal released the trailer for No Time to Die, directed by Cary Joji Fukunaga and in theaters on April 2, 2020. A direct sequel to 2015's Spectre, Bond comes out of retirement when he's called in to stop a new villain and rescue a kidnapped scientist. To finish the job, Bond reluctantly teams up with "Nomi" (Lashana Lynch), a new 00-agent.
"You a double-oh?" Craig's James Bond asks her. "Two years," she says, before warning Bond to "stay in your lane" or else she'll "put a bullet in your knee. The one that works."
With rumors swirling regarding the future of James Bond post-Craig, including casting a woman, a person of color, or both, it will be interesting to see if Lynch's Nomi replaces James Bond as 007 in No Time to Die — if she hasn't already. Lynch's Nomi as the new 007 is already rumored by insider sources close to production, but the film's marketing has thus far kept Nomi's specific agent number withheld.
Little of the film's actual plot is revealed in the two-minute trailer, but it's wall-to-wall stunts and action that puts James Bond on equal footing with other action franchises like Mission: Impossible and Fast & Furious. Cars flip, dirt bikes go up ramps, and doughnuts are made in tricked-out Aston Martins that spit bullets. A lot of No Time to Die feels refreshingly old school, which is the only way to go when it's Craig final run as Bond.
Furthermore, Bond appears haunted by Léa Seydoux's Dr. Swann, a character from Spectre who did the impossible and stole Bond's heart. She returns in the film playing a yet-to-be-determined role in the overall plot with a mysterious backstory that's come back to haunt her.
No Time to Die also features returning series stars Jeffrey Wright as Bond's CIA friend Felix, Ben Whishaw as Q, Rory Kinnear as Bill Tanner, Ralph Fiennes as M, and Naomie Harris as Eve Moneypenny. Along with Seydoux, Christoph Waltz returns as his role from 2015's Spectre.
Newcomers to the series include Ana de Armas (Blade Runner 2049, Knives Out) as Paloma, an "irresponsible" and "bubbly" character, while Oscar-winner Rami Malek will play the new Bong villain The Phantom of the Opera Safin.
The official synopsis, from 007.com, reads:
"Bond has left active service and is enjoying a tranquil life in Jamaica. His peace is short-lived when his old friend Felix Leiter from the CIA turns up asking for help. The mission to rescue a kidnapped scientist turns out to be far more treacherous than expected, leading Bond onto the trail of a mysterious villain armed with dangerous new technology."
As the final James Bond film with Daniel Craig, who is now among the longest-running Bonds in movie history, fans should maybe expect No Time to Die to pack a spectacular wallop that celebrates Craig's 13-year stint. And if the movie sucks, well, at least there'll be a new Bond in the future — or at the very least, a new 007.
No Time to Die will release in theaters on April 2, 2020.