Learning Rap Backwards: Das Racist's 'Sit Down, Man' Five Years Later
A satirical hip-hop classic from which I'm still learning.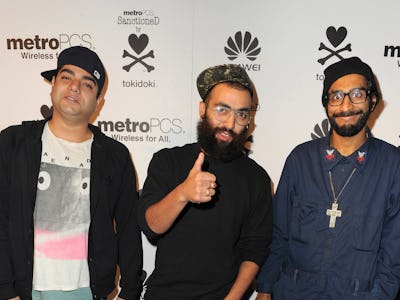 Jordan Strauss/Getty Images for MetroPCS
I first heard Das Racist in my senior year of high school when my friend told me to not listen to them. They were bad, hipster rap. Being adolescently defiant, I Googled the rap trio and listened to their viral hit, "Combination Pizza Hut and Taco Bell." The gimmicky track didn't really stick with me at first, but the preceding song from their debut Shut Up, Dude, "You Oughta Know" got me hooked.
The song's backing track, Dipset's "You Oughta Know," liberally samples Billy Joel's "Movin' Out (Anthony's Song)," a personal favorite, so the standards for acceptable rapping were pretty low to keep my interest. They weren't, aren't, and will never be the world's most proficient lyricists, but Victor Vázquez (Kool A.D.) and Himanshu Suri's (Heems) lackadaisical, "smartest dumb guys in the room" approach to the genre will forever inform my understanding and enjoyment of rap.
Because I was late to DR, I was able to listen to both their debut and their critically acclaimed followup mixtape Sit Down, Man as soon as I learned about the group. Sit Down, Man, which came out five years ago today, stands as DR's best project. Das Racist satirized hip-hop so effectively that it was never really clear how serious they were even when the songs stood on their own as good rap.
They lifted famous bars verbatim and interpolated others. They made allusions so obscure that Rap Genius was a necessity. Das Racist taught me about hip-hop before I even knew what they were talking about. I learned rap backwards through Das Racist: They had consumed and internalized decades of hip-hop culture, and I just got the distilled version they provided.
Sit Down, Man stands out among DR's three projects (their only LP Relax being the third) because it's inherently listenable. They brought in excellent outside producers (Scoop DeVille, Boi-1da, Diplo — whose Mad Decent label co-released the tape) and collaborators (Chairlift, El-P, Despot, Fat Tony, Roc Marciano, Lakutis), making the tape more hip-hop-focused, compared to the bizarro-dance efforts of the preceding and succeeding works. After Shut Up, Dude was received skeptically but welcomingly, it was clear DR wanted to make a substantial rap record (it's 78 minutes long).
"hahahaha jk?" is the mixtape's definitive track. Kool A.D.'s mumbles the provocative hook, "We're not joking, just joking, we are joking, just joking, we're not joking," four times to open the song, setting out to confuse the listener enough to stop caring if their motives are "real." Heems then delivers a thoroughly impressive verse, regardless of context. He performs some lyrical gymnastics, spitting:
No BP, just beat me, meet me where I beat beats, drop street heats / I'm on the block like street meat / Call me Dwight Schrute, the way that I eat beats / No beet farm, just pharm beats, smarmy / A motherfucker tried to harm me, heh?
Yep, he alludes to The Office and the oil giants reeling from a then-recent oil spill. His "heh?" at the end might be an Ol' Dirty Bastard, Kanye West, or French Montana imitation — it doesn't matter who. Later in the song, Kool and Heems go bar-for-bar goofing on being weed rappers; Kool riffs on Madvillain's "Accordion"; and Heems lifts from Styles P on Rick Ross' "B.M.F." The song is a big dare. Question their ability to rap, they'll go in. Call them appropriative, they'll cite the canon and pop radio. All the while, however, they know they are on the outside of hip-hop looking in and never will be the best. But that never stopped them from trying.
Das Racist were always aware the race issues they were addressing, as their name may suggest. Vázquez is Afro-Cuban-American, Suri a Punjabi-American, and hypeman Ashok "Dapwell" Kondabolu is Indian-American. Vázquez and Suri famously met studying at Wesleyan University. They didn't have the traditional rappers' backgrounds, but did have their own experiences with racism in America. They make light of the matter on "Puerto Rican Cousins," on which they concede that, to the world, they just look Latino and that they're probably related. Talking about "the hood" or "the streets" was not in their repertoire, so they instead focused on what made them so weird in hip-hop. Kool calls himself the "illest Latin rapper with bitch hair" on "Return to Innocence"; Heems gives himself the nickname "Young Cocoa Butter." They didn't try to pretend that they fit in properly. Das Racist remarked on what made them stand out.
Das Racist is such a strange foundational rap act for me because they didn't necessarily report firsthand. Nas "sipped the Dom P, watching Gandhi till [he was] charged / Then writing in [his] book of rhymes, all the words past the margin," on "The World Is Yours," but I only knew that after Kool was watching the same film, when he was instead "eating banh mi like they was cars and [he] was Blondie." They're a rap fan's rap group. It's fun to hear them mock their forebears because it's with the utmost respect. Listening to Das Racist for hip-hop history and knowledge is like watching South Park and claiming to understand politics. The show will teach you what's wrong with certain societal issues, but also show what's important. Das Racist didn't portray what was wrong with rap, but they exaggerated some of the more ridiculous tropes (some of their references were pretty out there), only to show some foundational aspects of the genre.
Ultimately, Sit Down, Man has withstood the test of time because it is just rap. "Rapping 2 U" is one of the most straightforward album cuts, keeping it simply about rap. Heems has a handful of Punjabi namedrops, but also the unforgettable punchline, "Haters mad 'cause they got Costanza dicks." Kool A.D. is reading Nietzsche, who tells him, "The nostril's where the genius is," but he could also just be doing cocaine. Lakutis even throws in rhymes about jazz and Nelly in one of his finest guest verses. With all politics and satire aside, the Das Racist offer a simple treatise with the song's hook: "You, we're rapping to you my friend and only you / To you! So don't ever say we never did nothing for you." Das Racist loved rap. Even if I didn't understand it all at first, I absorbed their affection, learning that rap is complex, intricate, and dense, but in the end, it's just fun.