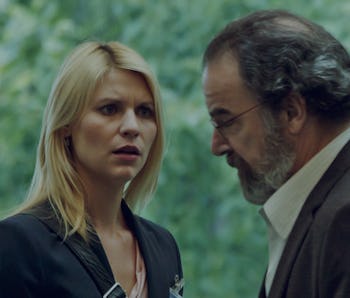 Entertainment
'Homeland' Season 5: What's Carrie Going to Pull Next?
The former drone queen returns in October.
At the end of its third season, Homeland reached a stalemate. Would it simply stop now that Carrie and Brody's car-crash relationship had been brought to its horrific conclusion? Or would it continue down a new path? Showtime opted for the latter. Season four saw relocated Carrie to Islamabad and put in charge of the CIA's operations as station chief — after the death of her predecessor at the hands of an angry mob. Which both she and her right-hand man Quinn witnessed first hand in the season premiere, a shocking scene that set the mood for Carrie's personal season arc filled with betrayal, heartache, and attempted infanticide.
The season also delivered some of the series' most compelling episodes to date, a side effect of no longer being shackled to the Brody plot. The Embassy takeover, Aayan's assassination, the renegotiation of Saul's release all packed an emotional wallop. It was Carrie's journey, however, that delivered most of the surprises. Across the twelve episodes we were treated to only one instance of the infamous Danes' lip wobble, as Mathison managed to keep it together — even after the ISI switched out her meds. So, what can we expect from the former CIA intelligence officer in season five?
She no longer works for the CIA
The start of season five picks up two-and-a-half years following the events of the season four finale. A low-key closer that saw Carrie and Quinn's brush with romance and confirmed Dar Adal's betrayal as a double-crossing CIA operative working for the Taliban, who may have swayed Saul to the dark side. No longer in the employ of the CIA, Carrie is transplanted yet again to another foreign locale, as the show's official synopsis outlines:
"The game has changed for Carrie Mathison. Out of the CIA and living in Berlin, Carrie is trying to start a new life but realizes now she's the one with a target on her back. As the danger intensifies, and without Saul and Quinn to rely on, one thing becomes clear –she''s never been at greater risk or with more to lose."
Out from the federal government's clutches Carrie now works security detail for German philanthropist Otto Kuring, who's also going to be a main antagonist for the season. Hurray! Another person lauding their position of power over Mathison. Will he lean on her fragile emotional state as a form of manipulation?
The domestic queen
If you thought the birth of her daughter Francesca sometime between season three and four would spark a mothering instinct in the troubled intelligence officer… then you'd be right. Even if she did try to drown her own kid as the saying goes, it's better late than never. Trailers and clips released thus far show Carrie settling into her new European lifestyle with the little ginger darling in tow. She even takes her Brody baby out for bike rides down sun-dappled cobbled streets, and leaves a teary video message that presents a very different Carrie than ever before. "You are the best thing I have ever done," she cries, "I love you very, very much."
And, after a history of poor romantic choices she's got herself a beau who hopefully won't be planning to commit treason. As Homeland tends to shatter any and all chance of Carrie having a normal life, her blissful domestic respite probably won't last past the first episode. "This season, Carrie's realizing that she can't fully disown her past," says Danes, "and she's going to have to reconcile that with her current reality. That's going to be a very painful experience."
She will return to the spy game
Working for Koch won't be a simple gig for Carrie. She's thrown back in at the deep end when she accompanies the billionaire to a war zone in Lebanon:
As one of her new acquaintances drily observes, you can take the girl out of the CIA but you can't take the CIA out of the girl. She's soon caught up in another international incident that finds her on a kill list. Carrie's typical response to fraught scenarios is to act out and go on a substance binge, and then sleep with the most unsuitable person possible. This season she's back on the bottle, then taking said bottle and using it to grind up some pills that she then snorts. No point doing these things by halves.
"Maybe I knew someday the past would catch up with me," she says astutely during the trailer, as it cuts to her donning a wig, then losing the curly hairpiece when two armed men put a bag over her head and shove her into a van. Later she's seen (sans wig - presumably it's gone forever) wielding a sniper rifle — becoming the scared target as opposed to her usual calm, confident hunter protected by her fleet of drones.
Ever wanted to know how Carrie might react to situations and concerns like ISIS, the Charlie Hebdo shooting, and the Edward Snowden NSA leak? That's all to come this season with series' showrunner Alex Gansa confirming the inclusion of incidents in Carrie's world that will intersect with what's currently happening in the real world.
So with more back-stabbing, drug-taking, kidnapping, torture and dodgy marksmanship on the cards, it's looking like another day in paradise for Carrie.
Homeland returns on Sunday, October 4.