JSA in 'Black Adam' will mean something huge for The Rock's DC villain
Dwayne Johnson has never called his DC supervillain a "bad guy." Now we know why.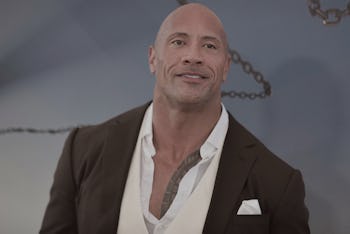 Richard Shotwell/Invision/AP/Shutterstock
Every time Dwayne Johnson talked about Black Adam over the last five years, there's one word that the ex-WWE star turned Hollywood actor has not used to describe the DC Comics supervillain: "Villain." Now we may finally know why, and it has to do with the Earth-2 superhero team, the Justice Society of America.
In an interview with Screen Rant, Dwayne Johnson revealed that his 2021 DC superhero film, Black Adam, will be the stepping stone into the world of the Justice Society of America. In comics, the JSA preceded the Justice League and exists in the parallel "Earth-2," while the JLA defends Earth-1.
"We will introduce you to that," Johnson said, "the world to JSA."
Hold up. Did Johnson just drop a huge Black Adam spoilers?
Here's the thing: Black Adam's history with the JSA, as explored in the Geoff Johns/David Goyer run of Justice Society of America, is where Black Adam actually tried to be a real superhero. The longtime arch-enemy of Shazam/Captain Marvel, it was in that Johns/Goyer comic book series that Black Adam spent time as a reformed bad guy, fighting on the side of good for the first time while creating tension within the team for doing things his own way.
Eventually, Black Adam defects from the JSA with Atom Smasher, the only friend he made in his time there.
With Johnson's film, it seems that Black Adam will introduce the character to a mass audience not as a super-villain, but as a morally gray "anti-hero" who will fight for good in ways audiences may find divisive.
This isn't so new, as Johnson already said as much about his Black Adam. In the November 14 Instagram post where he confirmed the film's theatrical release date, the actor wrote at length about Black Adam's unique approach to the whole "superhero" thing. "He's a rebellious, one of a kind superhero, who'll always do what's right for the people," Johnson revealed, "but he does it his way."
What's new is the JSA connection. Not only is Black Adam expanding the scope of the DCEU to include more DC characters on the big screen (are we that much closer to Hawkman and Mister Terrific movies?), but the explicit mention of JSA in Black Adam means fans can start doing their homework. There's tons of JSA issues out there. Many of them feature Black Adam, but all of them can give you an idea of what type of DC hero — or villain — Dwayne Johnson will be.
Black Adam will be released in theaters on December 22, 2021.