Dating app "addicts" share these two traits
About 40 percent of people date online to find partners. But what if you can't stop swiping?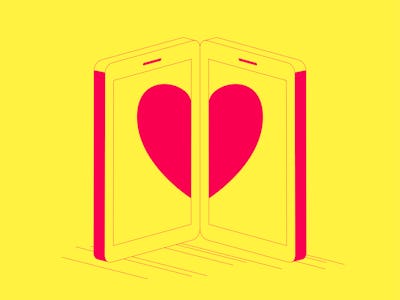 Shutterstock
Modern love often includes swiping through a sea of faces, matching with a stranger, then chatting and meeting up for a first date. Dating apps have overtaken other ways of meeting partners — the blind date, the meet-cute, or the set-up.
This year, about 40 percent of heterosexual couples in the United States met online. But online dating can be a slippery slope. Certain people can become overly dependent on dating apps and suffer from negative outcomes in their non-romantic life, research shows.
Inverse is counting down the 25 biggest stories of human potential of 2019. This is #22.
As Inverse reported in August, socially anxious and lonely people are more likely to continue unhealthy swiping. That dating app addiction can bleed into real life, affecting work, school, and other, non-romantic relationships.
Kathryn Coduto, researcher at Ohio State University, told Inverse back in August that the the gamification of dating is why it's so hard to quit. (The study was published in the Journal of Social and Personal Relationships.)
"Swiping takes so little thought, which is a big part of these kinds of addictive behaviors," Coduto, lead author on the study, told Inverse. "It feels like a game, right?"
In the study, Coduto's research team reviewed dating app usage and behavioral patterns of 269 undergraduate students with experience using one or more dating apps. The study focused on two behavioral traits: loneliness and social anxiety. All participants answered questions designed to measure these traits, like whether they were constantly nervous around others, or if they preferred online dating to face-to-face interactions. To measure compulsive use, participants responded how much they agreed with statements like "I am unable to reduce the amount of time I spend on dating apps."
"We have respondents who said they had gotten in trouble at school or work because they were taking their phones out to check their dating app," Coduto said.
The team observed that people with high levels of social anxiety often choose online dating over face-to-face contact. Dating apps promote a greater sense of "control, comfort and safety," Coduto explains. Approaching a stranger at the park or in a coffee shop can feel terrifying and unpredictable. Dating online lets users carefully construct their personal image and edit their conversations.
But social anxiety alone couldn't predict whether a person would use apps compulsively. What mattered, the team found, was whether a person was socially anxious and lonely: those people were more likely to grow dependent on dating apps and get in trouble for inappropriate use.
To date mindfully online, Coduto recommends setting time or swiping limits and avoiding scrolling mindlessly throughout the day. She encourages people to remember that there are real people looking for love on the other end.
"This study comes across a little scary, but I don't think people should be deterred from using dating apps. I really just think like the big takeaway is to be mindful of your use and to really remember that there's someone on the other side of that swipe."
As 2019 draws to a close, Inverse is revisiting 25 striking lessons for humans to help maximize our potential. This is #22. Some are awe-inspiring, some offer practical tips, and some give a glimpse of the future. Read the original article here.