'Doctor Who' Season 12 is coming in 2020 — and sooner than you think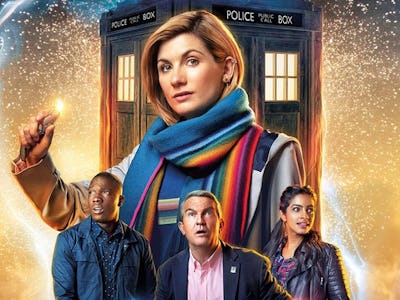 BBC
If you've missed the whirring engines of the TARDIS, you don't have to wait much longer to hear them again. Doctor Who Season 12 — or "Series 12" as it's officially referred to —will finally air in 2020, on a date that actually isn't that far away.
On Friday, the BBC announced that Doctor Who Season 12, which will again star Jodie Whittaker as the Thirteenth Doctor, will premiere on New Year's Day 2020 as a two-part special. After the season premiere on January 1, part two will air just a few days later on January 4. New episodes will subsequently release every Saturday until the season completes its ten-episode run.
The show will again air on the BBC, or BBC America if you're on the other side of the pond.
Little is known about the plot of the premiere, except that it will have the Doctor confront their old enemy, the Judoon, an alien race of rhinoceros-like police. The Judoon first appeared in Season 3, during David Tennant's stint as the Tenth Doctor and the debut of Freema Agyeman as Martha Jones.
The New Year's airdate continues a tradition adopted by Doctor Who producer Chris Chibnall, who took over for longtime showrunner Steven Moffat in 2018.
While the long-running British sci-fi series famously aired pivotal episodes as Christmas specials (sometimes multi-part specials that concluded on New Year's Day), the current Chibnall era have chosen New Year's as its holiday of choice. The first official "New Year's" special aired last year in 2019, and was the first holiday special to star Whittaker's Thirteenth Doctor.
Aside from the 2019 New Year's special, Doctor Who spent most of 2019 away from people's televisions to shoot new episodes. On Wednesday, the BBC announced two major guest stars for the series: actor and comedian Stephen Fry, and actor and singer Sir Lenny Henry CBE. Their roles are also unknown.
Said Fry in a statement: "Short of being picked for a British space exploration programme and I readily concede that I'm past the age where I'd be considered … then being in an episode of Doctor Who will certainly do as a very sweet second-place excitement."
Said Henry: "It was absolutely brilliant to be welcomed into the fantastical world of Doctor Who. The nearest I have been to the TARDIS was when I played the Caribbean Doctor in the Lenny Henry Show, so as a life-long (hiding behind the sofa type) Doctor Who fan this is a very special moment for me."
In a roundtable interview reported by GamesRadar, Chibnall said the series premiere is the "biggest" the show has ever done.
"It's big, the first episode," Chibnall said. "It's the biggest episode we've done. It might be the biggest episode the show has done. Lots of action, lots of fun."
He continued, "We want to do big action-packed emotional, scary, funny stories and I think what we want to go up a level from last year."
Doctor Who Season 12 premieres January 1, 2020.