'Dragon Prince' Season 4 release date might be at risk, ex-employee says
And 7 things we learned from the show's co-creators about its uncertain future.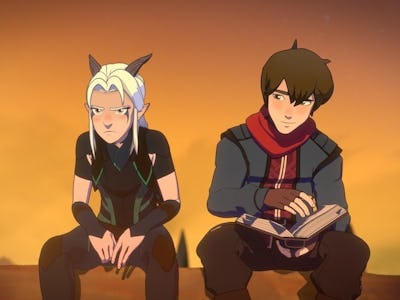 Netflix
The Dragon Prince Season 3 just released on Netflix earlier today, but it won't be long before fans of the animated fantasy series began asking about Season 4. Well, we have good news and bad news. The good news is that the team behind The Dragon Prince already has big plans for Season 4 and beyond. The bad news is that the show's future could be in jeopardy, at least according to one former employee who's also accused its co-creator of sexist behavior.
Here's everything we know about The Dragon Prince Season 4 and beyond.
Why the Dragon Prince Season 4 release date might be at risk
Earlier this year, Danika Harrod left her position as Head of Community Development for The Dragon Prince and Wonderstorm (the studio that makes the show). More recently, Harrod and another former employee, Lulu Younes, detailed alleged misogynistic behavior at Wonderstorm which led to their departure, calling out series co-creator Aaron Ehasz in particular. Those allegations were also echoed by a former Riot Games employee who worked with Ehasz at the video game developer.
But buried among Harrod's many tweets on the issue were several claiming that the show's future beyond Season 3 might not be so secure.
"I would prefer the show not be boycotted either, but that isn't out of the desire to protect people," Harrod tweeted on November 6. "Aaron has been incredibly misleading in how the shows been presented to fans. Season 3 was done a long time ago and there was never a single sliver of risk of it getting 'canceled.'"
She continued , "I'm already saying way too much, but Season 3 finished production a while ago! The animators were on contract through Bardel [Animation' and the contract ended when S3 production did. And in Aaron's brainstorming for Season 4 there were such huge red flags"
Aaron Ehasz publicly denied the allegations against him in a statement on Twitter without going into specifics. Speaking to Inverse, Dragon Prince co-creator Justin Richmond stated, "Wonderstorm fully supports Aaron."
Read more about the accusations made against the creator of The Dragon Prince and an official statement from Wonderstorm's president in our original article.
What's the plot of The Dragon Prince Season 4 (assuming it gets made)
If the Netflix series continues on (with or without its co-creator), we do have a pretty good sense of where it could be headed next. Here are seven things to expect in Dragon Prince Season 4 based on Inverse's wide-ranging interview with the show's creators. (Warning: Light spoilers for Season 3 below.)
7. They're still "hopeful" Netflix will renew the show.
Netflix hasn't officially confirmed what will happen with Dragon Prince, though releasing Season 3 puts the show in a precarious position considering the streaming giant's recent track record of canceling its originals at about this point. And while the show's co-creators wouldn't say how long Season 4 will take to finish, they did suggest that it might be up in the air.
"We are just hoping for the opportunity to bring the rest of the story to life in the way we've been bringing it to life," Ehasz tells Inverse.
6. The Dragon Prince will keep getting bigger.
"The story is going to continue showing broadening circles of the world. you're going to get more and more of Xadia and politics and elves and humans," Justin Richmond told Inverse, "and I think that will continue to grow."
5. We'll learn more about the Sunfire Elves.
Season 3 introduced us to the world of the Sunfire Elves, offering a window into another intricate society filled with lore, history, and in-fighting. The Sunfire Elves didn't exactly make out to great this season, but we could learn a lot more about that in Season 4.
When asked whether we'd learn more about the Sunfire Elves, here's what Richmond said: "100 percent yes, there's a huge amount of story to tell there."
4. More Aaravos
Aaravos plays a huge role in Season 3, but he'll become even more important in Season 4, both as a an influence on the present/future and as a figure in The Dragon Prince's mysterious past.
Speaking about Aaravos' connection to the Sunfire Elves, Ehasz said the following:
"The next two seasons are about understanding who Aaravos was, who they thought Aaravos was, how they realized what was happening, and imprisoned him."
3. What a new chapter means for The Dragon Prince.
The show's first three seasons took place under the banner of "The Dragon Prince," but Seasons 4 and 5 will be collectively titled "The Dragon Prince: Name Withheld." What does that mean? Will the characters change? Can we expect a time jump or a shift in tone? Here an explanation from Ehasz:
"There's continuity of character. I think a way of putting it that these first three seasons were kind of the acute experience of a culmination of history that led to Thunder's death, a human king's death, what they thought was the destruction of the egg, and what might have led the world into the brink of a full war between the human kingdoms and Xadia. That happens over the course of maybe a month, where young people from opposite sides of the border discover a secret and believe in each other and believe that maybe they can change things. But that doesn't end all the feelings of prejudice and hatred and conflict that exist from generations of bad things happening.
2. MORE AARAVOS
Here's the final line from that previous Ehasz quote, which offers a major clue about what Aaravos may do next in The Dragon Prince Season 4.
"The goal of healing and rebuilding the world is going to be a hard one, and especially a hard one when Aaravos, who may have been one of the mysterious forces who pushed the world into this situation, now seems to be on the cusp of returning or trying to return to the world."
1. More Claudia, too
And here's a key detail Ehasz told us about Claudia's plot in The Dragon Prince Season 4:
"When we get back to her in Season 4, there is some amazing stuff, just in the first few episodes, which by the way are also funny and quirky and all the things we've come to love about the character, but she becomes a very critically important driving force of the narrative in Season 4."
Bonus: "A very good theory"
Finally, in my recent interview with Richmond and Ehasz, I floated a theory of my own about the entire seven-season arc of The Dragon Prince, and got some light confirmation that I might be onto something.
In Season 1, Episode 1, Aaravos narrates the opening and lists the various magics of this world. The full list mentions the sun, the moon, the stars, the earth, the sky, and the ocean — plus the "dark magic" discovered by humans.
Considering that the first three seasons were titled Sun, Moon, and Sky, and that Season 4 is titled "Earth," it seems likely we already know the remaining season titles, leading up to Season 7 (Dark Magic).
While Ehasz noted that the specific order in which Aaravos lists those magical sources is pretty much random, he added that "other than that it's a very good theory."
The Dragon Prince Seasons 1-3 are streaming now on Netflix.