'Half-Life: Alyx' leaks tease a VR-friendly Gravity Gun replacement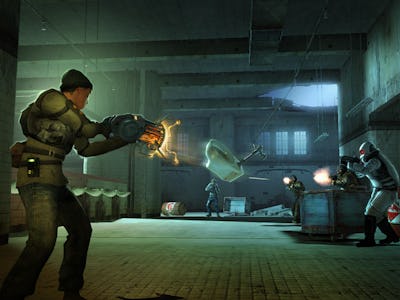 Valve
There is no other weapon in Valve's Half-Life series more iconic than the Gravity Gun. Gordon Freeman's trusty crowbar might be a close second, but his glowing orange claw allowed Half-Life 2 and its two followups to become a physics puzzle adventure that defined a generation, rather than just another shooter.
The Gravity Gun is reportedly not included in Half-Life: Alyx but Valve allegedly has another, more hands-on weapon planned for its VR-exclusive: the "Grabbity Gloves."
Players might be able to make like Magneto or a Jedi to pull distant items to their hands. YouTuber Tyler McVicker who runs the Valve News Network first caught that Valve was working on magnet gloves in September 2018 from a company data leak. McVicker noticed a new control system labeled "Grabbity Gloves," which Ars Technica reported would succeed the Gravity Gun, according to multiple unnamed sources.
"We're told that these are spiritual successors to [Half-Life 2's] Gravity Gun, in terms of revolving around realistic physics," wrote Sam Machkovech for Ars Technica. "Maybe that means we can, or cannot, grab certain items due to real-life physics systems or obstacles."
Fans of the Half-Life 2 even created mods to replicate gravity gloves for the title back in 2006. But the control system described by McVicker and Ars Technica suggests Valve will use Half-Life: Alyx to showcase its advanced, VR physics engine and its Valve Index controllers.
Company developer Kerry Davis hosted an hour-long presentation about designing VR object to be naturally manipulated by users' hands at the DigiPen Institute of Technology on September 14. He specifically mentioned a "flagship VR title," which is widely believed to be Half-Life: Alyx.
Heavily focusing on easy VR hand manipulation will allow the Valve Index "Knuckle" controllers to shine. The devices are capable of tracking slow finger movement, so Half-Life: Alyx's magnetic mittens might also come with special gesture controls to, say, yank a knife out of a wall or lift a barrel up high.
The upcoming VR title is still veiled in mystery, but Valve will give fans more details on Thursday at 1 p.m. Eastern. It's unclear if the company is hosting a live-stream or if it will publish a video with an announcement, but a teaser trailer and mention of a release date window are expected.
Half-Life: Alyx is expected to only be released for VR systems… eventually.