Researchers are creating a small, wearable oxygen sensor for sick infants
This Band-Aid sized sensor would let babies go home with their families.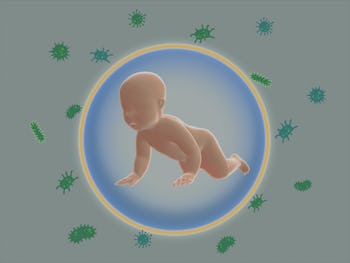 jm1366/Shutterstock
There are few things more heartbreaking for a parent than having a sick child, especially when their child is sick during the first few months of their life. Researchers are hoping to help alleviate at least some of that burden through a new prototype technology that would allow sick babies to go home with their families much sooner.
Typically in natal intensive care units (NICUs) sick babies are separated from their families in incubators and connected to a myriad of monitors in order to keep tabs on their delicate vital levels. In part due to their weakened states and in part due to the cumbersome monitors connected to them, babies in these incubators are only able to spend a few minutes with their mothers at a time.
Lead researcher on this project and assistant professor of electrical and computer engineering and director of the Worcester Polytechnic Institute's (WPI's) Integrated Circuits and Systems Lab, Ulkuhan Guler, knows how frustrating this can be first hand. Her first child was born with a respiratory problem and placed in the NICU during his first few days of life.
"For three days, they let me see him only three times a day, for 15 minutes at a time," Guler said in a statement. "They had to disconnect all the monitor wires to be able to give him to me, but they needed to monitor his breathing—so I couldn't hold him more than that. I wanted to be close to him. It was so frustrating."
Inspired by this experience, Guler set out to design a sensor that would enable infants to have their oxygen levels monitored without being separated from their families or connected to wires.
The technology is a wearable oxygen sensor about the size of a Band-Aid that wirelessly and non-invasively measures a baby's oxygen levels while enabling them to be held and even taken home. It does this by measuring blood gases diffused through the baby's skin instead of using a nearly 5-pound, machine alternative typically found in hospitals.
As opposed to pulse-measuring devices that clamp to your finger and measure oxygen saturation, this gas-based measurement looks at something called the partial pressure of oxygen (PPO) which is a measure of oxygen dissolved in the blood. Guler said that this method is not only as accurate as a blood test at measuring oxygen levels, but is a more accurate measure of respiratory health than the saturated measure.
With all of these data combined, the monitor will be designed to also connected wirelessly to the internet in order to alert parents and physicians to any dangerous changes in oxygen levels.
The technology is still being prototyped, but Guler and her research team presented their first paper on the project this past October at the 2019 Biomedical Circuits and Systems Conference (BioCAS) in Nara, Japan to demonstrate the device's capabilities. Three further papers on the developments made during the project on the prototype, oxygen measurement techniques, and building the chip are currently under review.
As this technology continues to develop, Guler also intends to modify it to help serve adult patients as well, especially patients with respiratory conditions like asthma and seniors with COPD (Chronic Obstructive Pulmonary Disease.) With the introduction of an associated smartphone app, the device would help these patients continually monitor their conditions.
One of Guler's collaborators and chair of the department of pediatrics and an associate professor at the University of Massachusetts Medical School, Lawrence Rhein, says the more data they're able to collect the better healthcare technology they can design.
"The concept of the technology is that if we have more accessible data for a person of any age, we'll be able to better take care of these patients," said Rhein. "The idea of noninvasive, untethered, accessible data collection opens up a whole new world of care."