'Frozen 2' review: Disney's most beautiful movie ever is fiercely anti-colonial
Beautiful in both song and soul, 'Frozen 2' is the rare sequel that outshines its predecessor and advances the entire medium.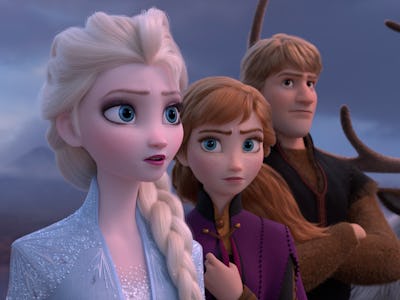 Walt Disney Studios
It's been a long six years since Disney's Frozen put the world on ice. Children who tortured parents to "Let It Go" on loop are now in middle school. They're watching TikTok, not Elsa. Frozen 2, the sequel, knows this. It knows its audience has grown. It knows the world has changed, and it's discontent to rest on bedazzled laurels.
Frozen 2, out November 22, is another sparkling light show with emotionally charged Broadway-ready bangers and a hint more prog-rock energy. But at the heart of the movie is a story about the fear of change, and the uncomfortable bravery it takes to accept it.
This is the rare sequel that takes evolution seriously, as Frozen 2 unspools its story to ask new questions about self-identity. Where Frozen was a queer parable about hiding oneself from the world, Frozen 2 is a confrontation of the systemic infrastructures that invisibly define one's understanding of it.
Frozen 2 is a family musical about the evils of colonialism, about the pain it causes and the lies it creates. It's about how newer generations, through no fault of their own, benefit from the privileges of ignorance and white-washed history. Frozen 2 tackles all these weighty themes and more, with all the singing snowmen, cute animals, and cheesy expressions of love fans of the original expect.
Directed by Chris Buck and Jennifer Lee, written by Lee and Allison Schroeder (Hidden Figures), and songs by Kristen Anderson-Lopez and Robert Lopez, Frozen 2 picks up shortly after 2013's Frozen. Elsa (Idina Menzel) has settled as Queen of Arendell, but deep down she feels something is wrong.
Sometimes, Elsa hears a voice, a ghostly melody beckoning her. When the ancient spirits of fire, water, earth, and air awaken (and no, the Fire Nation does not attack), the spirits curse the Kingdom of Arendell, making the kingdom inhospitable. The spirits are basically the electric company, and Arendelle is way past due. Hoping to restore Arendell, Elsa journeys to a fabled forest her late father swore was real. Thus kicks off another adventure with Anna (Kristen Bell), Kristoff (Jonathan Groff), Sven, and Olaf (Josh Gad).
There's singing, there's dancing, there are magical spirits with quirky personalities and cute animals with big anime eyes. On its sleek surface, Frozen 2 is as much Frozen as the original. The infectious music will play in your head for weeks, its vast autumnal landscapes rival Elder Scrolls and are some of the most breathtaking visuals ever put to screen, and the film has all the playful winks that imbue it with personality.
Frozen made an actual billion dollars, but Frozen 2 roasts it whenever it gets the chance. Kiddies who aren't ready to grasp the movie's bigger ideas will still envy Elsa's outfits and howl at Olaf. The children at my screening broke the sound barrier from Olaf's relentless gags.
But for the bigger kids, Frozen 2 is a heavy movie. In Frozen, Arendelle was a kingdom in a vacuum, existing as a copied and pasted world from the Walt Disney sourcebook. Frozen 2 changes that. Because all kingdoms rise from the subjugation of a populace, Frozen 2 is among the first, or at least most prominent Disney movie in recent memory, to explore colonialism as part of a kingdom's foreign affairs.
This is Frozen 2: Characters leave their hometown, meet diverse new people, and discover a harsh truth about the world — the Disney musical of freshman year at a liberal arts college. To explain the specifics would be too much of a spoiler, and Frozen 2 arguably doesn't go far enough to make its point actually sting. After all, this is still a film about two very fair skinned white women from a very white-influenced setting. But it's no mistake Arendelle's neighbors have darker complexions, black hair, and a frontier lifestyle than the Arendellians who walk on cobblestone streets.
But does any of this still make a good movie? The answer is YES. Frozen 2 packs a wallop with more dire emotional stakes than the first movie. It is still very much about Elsa and Anna's sisterhood, which is put to the test here — another sign of significant growth since Anna asked Elsa to build a snowman.Olaf has also matured; he's the kids' vehicle, singing directly to them about how growing up is freaking scary, but you'll come out better in the end if you don't melt. A nice counterbalance is Kristoff, whose arc is a hysterical distraction from the dark places the other characters go.
Beautiful in both song and soul, Frozen 2 is the rare sequel in a world of sequels and spin-offs that elevates its predecessor while advancing itself and the medium of animation. Its imagination is as vast as the Final Fantasy-esque lands it explores, and its lessons profound enough to leave an everlasting impression. After all this time, Frozen still knows how to warm the heart.
Frozen 2 hits theaters on November 22.