Tesla now produces the most efficient electric car
Overtaking Hyundai is a big deal.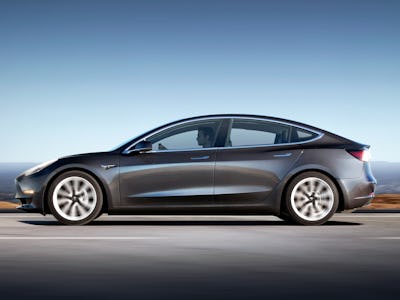 Tesla
It's official: Tesla produces the most energy-efficient electric vehicle in the United States.
The Environmental Protection Agency released its latest ratings for new all-electric vehicles, and the 2020 Tesla Model 3 in a Standard Range Plus configuration ranks as the most fuel-efficient vehicle on the list. On Thursday, Electrek noted that the car beat out the Hyundai Ioniq that had held the top place since 2016.
It's a big win for Tesla, as it seeks to improve its range efficiency and offer electric vehicles that move faster on the same amount of energy. The Model 3's marketing is emblematic of this new approach, where vehicles are sold in terms of expected range. It's a notable contrast to the Model S and X, where model numbers like "P100D" refer to the 100 kilowatt-hour battery pack under the car. Tesla's focus on making the same battery move faster has paid dividends, enabling it to claim the top spot.
Tesla vs. Hyundai: how Tesla came out on top
First, a quick primer. Fuel efficiency in a gas-powered car is easy enough to understand, as it measures how many miles a car will travel on a single gallon of gas. Electric cars don't have gas, so the agency uses a measurement called "miles per gallon equivalent," or MPGe. This works on the assumption that one gallon of gas equals 115,000 BTUs of energy. That works out to around 33.7 kilowatt-hours.
An electric car's range tells you how far it will go on a single charge, but because cars have varying battery sizes, it doesn't tell you how efficiently it's using that energy. While one car could travel 300 miles per charge, if it's using a 100-kilowatt-hour battery to do that, it's using more electricity per mile than a 250-mile-range car with a 50-kilowatt-hour battery.
The 2020 Tesla Model 3 Standard Range Plus offers a combined city and highway driving efficiency of 141 MPGe. In the city that figure rises to 148 MPGe, and on the highway it drops to 132 MPGe. That's on a total range per charge of 250 miles.
The 2020 Hyundai Ioniq Electric scored 133 MPGe for combined city and highway driving. In the city it rises to 145 MPGe and on the highway it drops to 121 MPGe. That's with a total range of 170 miles.
This is a big reversal from the 2019 models of these respective vehicles, where the Hyundai beat out the Tesla with a combined score of 136 MPGe versus 133 MPGe. What's odd about the figures is the 2020 Hyundai performed worse than the 2019 model.
Hyundai made a number of changes to its vehicle year-over-year. The new version packs 170 miles of range, versus the much smaller 124 miles in the previous model. That's thanks to a battery pack that increases from 28 kilowatt-hours to 38.3 kilowatt-hours. The new model also sports some design tweaks like a new front grille. Unfortunately that meant a decline in efficiency, although consumers will likely appreciate the significantly higher range.
Tesla, on the other hand, has been gradually improving its vehicles. In October it added 10 extra miles to the range. CEO Elon Musk explained in October 2018 that, unlike many automakers, Tesla partially upgrades its cars every month or so and doesn't follow any sort of annual cadence. The company is also expected to roll out a software update in the coming weeks to better boost efficiency in its vehicles, including a single-pedal driving mode.
One of the biggest benefits of these small changes? The EPA claims the latest Tesla model offers the lowest annual fuel costs, at just $450 per year versus $500 for the Hyundai models.