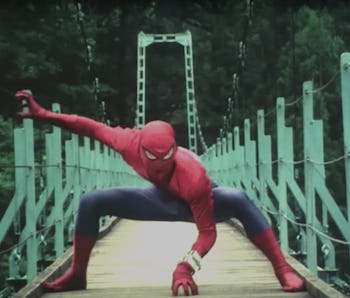 Entertainment
'Spider-Verse 2' producer confirms a totally wild Spider-Man for the sequel
It's the Emissary of Hell! Meet Toei's Spider-Man, the first new confirmed character for 2022's 'Spider-Verse.'
YouTube.com/Marvel Entertainment
A sequel to 2018's Spider-Man: Into the Spider-Verse will swing into theaters in 2022. That's a long time from now! But we already know the first new Spider-Man thanks to one of the film's producers.
And he is the Emissary of Hell, Toei's Spider-Man!
On Monday, Kubo and the Two Strings creator Shannon Tindle posted on Twitter a public plea to the sequel's producers Phil Lord, Christopher Miller, director Joaquim Dos Santos, and production designer Justin K. Thompson. Tindle asked to design for the film a new character, Spider-Man.
No, not Peter Parker. Tindle was referring to Takuya Yamashiro, the Japanese Spider-Man who starred in a 1970s television series produced by Toei.
"Dear @philiplord, @chrizmillr, @JDS_247 and @shinypinkbottle," Tindle wrote on Twitter, "Now that you've announced Spidey 2, IF, through some miracle of miracles, Japanese Spider-Man is written into the film, I will happily design him for you."
Phil Lord responded to Tindle's plea some bad news, at least for him. (Good news for us!) Said Lord, "He's already designed!"
Boom. Our first new character for Spider-Man: Into the Spider-Verse 2, confirmed on Twitter. And this is a big one! Because of all the Spider-Men to inhabit an alternate universe, Toei's Spider-Man is definitely one of the strangest.
Back in 1978, Marvel's Stan Lee brokered a partnership with Japanese TV studio, Toei, to produce new shows based on each other's intellectual properties. While Marvel co-produced the series Battle Fever J and nearly produced an American version of Toei's superhero series Super Sentai — an effort that would evolve into Power Rangers — Toei in turn had access to Marvel's characters. And what Toei created was Spider-Man, or Supaidāman.
Spider-Man, which aired for 41 episodes between 1978 and 1979, followed the adventures of 22-year-old motocross racer Takuya Yamashiro (Shinji Tōdō). Injected with the blood of a warrior from Planet Spider, Takuya inherits spider-powers, allowing him to become "Spider-Man" and take on the evil Iron Cross Army. He also had a giant robot, Leopardon.
Yes, it's totally weird. And yes, it's totally awesome.
While mostly unknown in the United States, Toei's Spider-Man was a success in Japan and had the enthusiastic approval of Stan Lee. It was also creatively innovative. Toy sales of Spider-Man's Leopardon boosted the already trendy appeal of giant robots in the Japanese consumer market. And the episodic formula for the show, in which the hero first fights monsters on the ground before raising the stakes in a giant robot battle, would be reused by Toei for its Super Sentai series, thus creating the basis for every Power Rangers episode.
And Marvel hasn't ignored Takuya Yamashiro. In 2009, Marvel streamed episodes of Spider-Man on its website with English subtitles. In 2014, Marvel confirmed Takuya's place in Marvel multiverse canon through an appearance in Dan Slott's comic book crossover series Spider-Verse.
In issue #12 of The Amazing Spider-Man, during the events of Spider-Verse, Takuya comes through a portal in the cockpit seat of Leopardon. While it's a pretty epic moment, he is quickly defeated by the villain Morlun.
Although the plot and story of Spider-Verse 2 is a deep secret, the inclusion of a new Spider-Man suggests an even bigger version of what audiences saw in Into the Spider-Verse. That means more Spider-heroes joining up with Miles, Peter, and Gwen (and Peter Porker?), though what evil awaits them has yet to be unmasked.
Spider-Man: Into the Spider-Verse 2 will be released in theaters on April 8, 2022.