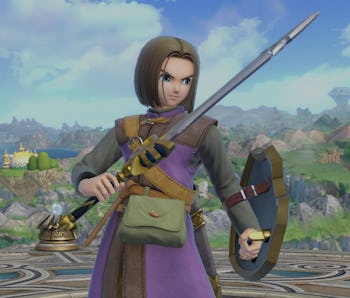 Gaming
'Smash Ultimate' DLC leak apparently confirmed ahead of rumored Nov. reveal
The latest 'Pokémon Sword and Shield' leaks could confirm a sketchy old Smash Bros. rumor.
Nintendo
It's been almost a year since Super Smash Bros. Ultimate arrived on the Switch, and we're still only a fraction of the way through the game's post-launch downloadable content (DLC). Now that it's November again, and there's a new Pokémon game on the way, it's time we put ourselves on alert for a possible Nintendo Direct based on rumors and some of Nintendo's established patterns.
Last month, on October 13, an anonymous user on 4chan shared a detailed, alleged rundown of a Nintendo Direct scheduled for November 13. That's the Wednesday just before the November 15 launch of [Pokémon Sword & Shield].
The presentation is said to focus on three games:
Animal Crossing: New Horizons
Super Smash Bros. Ultimate.
The information in the 4chan leak primarily deals with all the stuff fans almost always want to know about their favorite Nintendo games. For Pokémon, it's the starter evolutions. For Super Smash Bros., it's always new characters. The October 2019 leak in question includes both.
The leaked claims that the Sword & Shield starter evolutions will be "a large gorilla with a giant drum," "a humanoid rabbit with a soccer ball," and "a humanoid chameleon spy." The leak also says the next Super Smash Bros. DLC fighter will be Ryu Hayabusa, the main hero from Tecmo's Ninja Gaiden series. Furthermore, Fighters Pass 2 (as in, more characters to be added throughout 2020) will be made available for purchase.
This is important to remember because the most recent leaks for Pokémon Sword & Shield support the 4chan leak. A new thread on the gaming forum ResetEra, from a user named Atheerios, shared what looks to be the Sword & Shield starter evolutions. And what do you know: There's a humanoid chameleon spy and a gorilla with a giant drum. Cinderace also shows up, but without the soccer ball.
Although there are a number of possibilities for this, including the 4chan leaker just having a very, very lucky guess, the coincidence is still enough to raise eyebrows. It is pretty wild that the latest Pokémon Sword & Shield leak actually confirms a separate leak on 4chan that came an entire month prior.
Is there a Nintendo Direct on November 13?
It is unknown if Nintendo will hold a Direct on November 13. But you should ready your body if Nintendo does choose to schedule one out of nowhere.
Aside from E3 in July, there are no recurring dates in the year for Direct streams, and Nintendo often gives very short notice. But there is a vague pattern by Nintendo for holding Directs near the release of major games. Last year, the company held a 40-minute Direct on November 1 that was all about Super Smash Bros. Ultimate, a month before the game's December 1 release.
The most recent Nintendo Direct was held in September 2019, just two months after E3. Besides updates to Super Smash Bros. Ultimate (revealing Terry Bogard from SNK's Fatal Fury) and Pokémon, the September presentation announced the port of Overwatch to the Nintendo Switch, as well as Tetris 99 Version 2.0, The Witcher 3: Wild Hunt - Complete Edition, and a remake of Trials of Mana.
Pokémon Sword & Shield will be released on November 15.