'Smash Bros. Ultimate' DLC and 'Sword and Shield' starter evolutions allegedly leaked
The next Nintendo Direct might be a 'Pokémon' and 'Smash Bros.' extravaganza.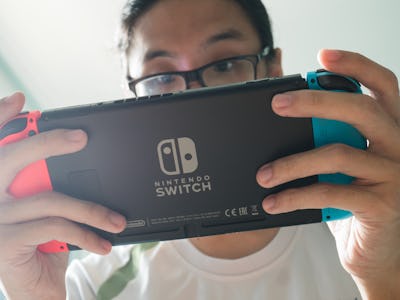 Wachiwit / Shutterstock.com
November is shaping up to be a monumental month for Nintendo. Pokémon Sword and Shield will be released on November 15 add Terry Bogard will be added to the Super Smash Bros. Ultimate roster at a currently unspecified date. The gaming giant is widely anticipated to host a Nintendo Direct sometime soon to break down its fall launches. Now, an alleged leaker on 4chan claims to know when the announcement will go down and what it will reveal.
The anonymous user wrote the Direct will take place November 13, two days before Sword and Shield hits stores. Their October 13 post claimed the update will primarily focus on the upcoming Pokémon titles and the new Smash Bros. Ultimate DLC content.
4chan isn't exactly known for its trustworthiness, but it has surfaced some accurate Nintendo predictions. Some of the information included in this recent post aligns with previous Smash Bros. Ultimate rumors, but the nameless leaker doesn't provide any evidence to substantiate their bold claims.
The alleged leak does include a surprising number of details, though some of the information isn't completely out of the realm of possibility. Here's what could be unveiled at next Direct.
Nintendo Direct: Smash Bros. Ultimate DLC character reveal
The prerecorded presentation is said to kick off by revealing the final Smash Bros. Ultimate DLC character: Crash Bandicoot. The mutated marsupial will allegedly join Nintendo's fighting game in December bringing an end to the first Fighter Pass bundle.
There have been a myriad of conflicting Smash Bros. Ultimate DLC rumors, but a good number of them have mentioned Crash as a potential contender.
A GameFAQ user claiming to have a reliable source at Nintendo correctly predicted that Piranha Plant, Joker, and Banjo & Kazooie would be added to the game back in December 2018. Their list also included Crash as the final DLC fighter.
More recently, Smash Bros. YouTuber PapaGenos revealed that a source on his Discord claimed that Crash would make it into the roster. His source had correctly leaked Mii Costumes for Goemon, Zero, Protoman and the Team Rocket Grunts in July.
Aside from shady rumors, the recent Nintendo Switch ports of Crash Bandicoot N. Sane Trilogy and Crash Team Racing might have foreshadowed the bandicoot's debut in Smash Bros. Ultimate. Activision owns the rights to Crash Bandicoot and these two Switch releases could have began the talks to add the games' furry protagonist to Nintendo's fighting game.
Nintendo Direct: Terry Bogard release date, new Fighter Pass, and more
The leak then claims that the Direct will continue with a November 13 release of Terry Bogard, five new Mii costumes, a $5 Minecraft DLC bundle, and the announcement of Fighter Pass 2.
The 4chan post states that the second Fighter Pass will also cost $24.99 suggesting that it will come with five additional fighters, just like the first. Its first character will supposedly be Ryu Hayabusa the protagonist of Tecmo's Ninja Gaiden series.
Much like Crash, there have been several rumors suggesting that Ryu would eventually make it to Smash Bros. Ultimate. All of them have gotten the timing wrong, but this might be the moment of truth for the assassin.
Nintendo also added the NES version of Ninja Gaiden to the Switch Online library in December, which could suggest Ryu might be headed to Smash Bros. Ultimate.
Nintendo Direct: Pokémon Sword and Shield starter evolutions
Once the Pokémon Sword and Shield portion of the Direct gets underway, the 4chan post claims Nintendo will reveal the final evolutions for the Galar starters.
"Scorbunny evolves into a humanoid rabbit wit ha soccer ball," they write. "Sobble evolves into a humanoid chameleon spy. Grookey evolves into a large gorilla with a giant drum."
All three of these seem to fit what we know about the Sword and Shield starters so far. But Nintendo has yet to reveal their first evolutions, so it seems strange that it would debut their final forms out of the blue.
The leak goes on to say that three new Pokémon will be announced including a Ghost/Water-type possessed ship, a Fire/Grass goat, and a legendary "space-dolphin". The dolphin claim is reminiscent of the an old Pokémon Sun and Moon leak that made the rounds in 2016.
It's possible that Nintendo scrapped the dolphin in previous games and later decided to use it for Sword and Shield, but fans will need to wait a bit longer to be sure.
All of this will allegedly take place two days before Sword and Shield releases around the world. A Direct so close to the two titles' release could serve to build hype around the new installments and rile up some excitement for other titles as the holiday season approaches.
Super Smash Bros. Ultimate is available now. Pokémon Sword and Shield will be released for Nintendo Switch on November 15.