'Green Lantern' HBO Max show needs to do one unexpected thing to succeed
Greg Berlanti has an opportunity to introduce newer, better Green Lanterns than boring Hal Jordan.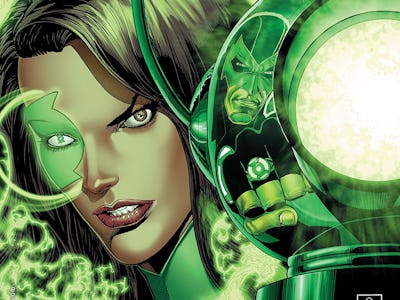 DC Comics
All those who worship evil's might, beware HBO Max's power: Green Lantern's light! Greg Berlanti, master and creator of the Arrowverse franchise on The CW, is set to produce two new DC shows for the AT&T/HBO/Warner Bros. streaming service HBO Max. And one of them will be a Green Lantern series.
As in, yup, DC is hoping to redo Green Lantern for a mass audience. In that way, fingers crossed that the new series isn't yet another Hal Jordan origin story.
On Tuesday, Entertainment Weekly reported that producer Greg Berlanti is developing two new DC Comics projects for television. One of them is an anthology project, Strange Adventures, that will depict "cautionary tales set in a world where superheroes exist." Its namesake is a classic DC's sci-fi comic book series. The other is Green Lantern. Green Lantern!
"Both of these original DC properties we'll be creating for HBO Max will be unlike anything seen on television," Berlanti said. "An anthology series of cautionary tales set in a world where superpowers exist, and, in what promises to be our biggest DC show ever made, we will be going to space with a Green Lantern television series, but I can't reveal any more about that just yet."
Little else is known about Berlanti's Green Lantern series, including its plot, characters, or cast. This makes me partially believe that the series could, or at least should, feature a different character other than Hal Jordan.
While Hal Jordan is perhaps the most famous of the Green Lanterns, he isn't the only one to have said the sacred oath, nor was Hal Jordan even the first. Hotshot Kyle Rayner, straight-laced John Stewart, and the millennial hot messes of Simon Baz, and Jessica Cruz have all been Earth's Green Lanterns worthy of carrying stories on their own. (Sorry, Guy Gardner fans.)
Simon Baz and Jessica Cruz especially would be great for a streaming series. As two rookie Green Lanterns who don't get along but must work together to protect Earth, the duo share stories grounded in problems familiar to adult millennials, even without cosmic space rings.
Simon, a Muslim-American mechanic from Detroit, is an ex-convict frequently on the wrong side of the law. His partner, Jessica, is a twenty-something Latina woman with severe anxiety. Despite this, the two are recognized by the Green Lantern Corps for their willpower, which makes them suitable replacements for a very busy Hal Jordan. Their stories were told in Green Lanterns, a comic book series ready-made for a TV adaptation.
Really, anyone else is more interesting than Hal Jordan, still one of the most boring characters in the history of the DC Universe. Even the disastrous 2011 film Green Lantern thought Hal was boring and tried to make him a lazy Tony Stark clone, and we all saw how that turned out.
Speaking of that movie, Green Lantern for HBO Max is actually the second time Berlanti has worked on the Emerald Knight. The first was that movie, which starred Ryan Reynolds as Hal. Though it at number one at the North American box office, it ended up a gigantic flop, grossing just $219 million against a budget of $200 million. Analysts reported that the film needed at least $500 million to be financially successful.
The movie became a punchline, even for comic book fans. In the post-credits of Deadpool 2, also starring Reynolds, a time-traveling Deadpool shoots Ryan Reynolds (playing as himself) in the head, bloodying the script for Green Latnern and stopping him from making a "mistake."
So, what did we learn? Among other things: No Hal Jordan.
It is unknown, and probably not likely, that Berlanti will connect his Green Lantern series to the Arrowverse. In addition to his shows on The CW, Berlanti also produces Titans and Doom Patrol on DC Universe, neither of which share ties to The CW shows like Arrow, The Flash, and Supergirl. But there is a crisis on the horizon, and the multiverse is in need of heroes. Maybe even a corps.
There is no release date for HBO Max's Green Lantern.