'Battlefield 6' release date gets delayed because of another big EA game 
The popular first-person-shooter is taking a backseat to the battle royale craze.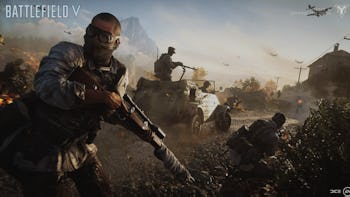 Electronic Arts
We've got good news and bad news for Battlefield fans. Electronic Arts announced that Battlefield 6 is happening, but fans of the first-person shooter will need to wait at least another two or three years. The publisher has no plans to release a new installment of the game on PlayStation 4 or Xbox One.
Battlefield 6 is slated to release sometime in 2022 on the PlayStation 5 and Xbox Project Scarlett consoles, EA revealed during its quarterly earnings report on Tuesday. That's thanks to how much the publisher is investing in its Fortnite competitor Apex Legends.
EA CEO Andrew Wilson said he wants the company to stay "hyper-focused" on the battle royale title for the time being, even if it means significantly pushing back games EA has released every two or three years in the past.
"We feel very good about the opportunity to grow the business next year, and have a Battlefield title in [2022] that will grow and deliver on what our fans' expectations will be for a Battlefield game on next-gen platforms," he said.
This would mark the first four-year gap that has ever occurred between Battlefield titles. The most recent Battlefield V was released two years after Battlefield 1 in 2016 (the naming conventions have gotten pretty wonky). EA's established a precedence of refreshing the franchise at least once every two or three years, but that's about to change.
Apex Legends has clearly established itself as EA first-priority shooter. Wilson said the company views it as its "annual shooter franchise" and that he has plans to build it out into a "10-year business," so expect a lot more Apex seasons moving forward.
That doesn't mean that Battlefield 5 will grow stale. EA has laid out a roadmap for the DLC content it plans to release to keep the shooter relevant next to its competition, like the recently launched Call of Duty: Modern Warfare.
Battlefield 5 still has a packed 2019 schedule of new content full of new maps, missions, and items. But EA will need to plan out at least another year or two of DLC and potentially a PS5 and Xbox Scarlett remaster if it doesn't want its shooter to fade when next-gen consoles launch in late 2020.
Battlefield 6 is expected to be released on PS5, Xbox Project Scarlett, and PC in 2022.