EA Play: E3 2019 Live Streams, Jedi Fallen Order & Potential Stadia Reveal
All of these games might make it to Google Stadia.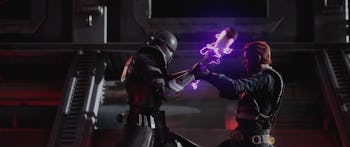 Electronic Arts
Video game monolith Electronic Arts will be the first company to kick off E3 this year with its EA Play 2019 event beginning on Saturday, June 8 at 12:30 p.m. Eastern. Unlike other attendees that will host full-fledged press conferences, EA's showcase looks to be a grab-bag of various live streams. But that doesn't mean there isn't the potential for big news from EA at E3 2019.
The company will show off never-before-seen gameplay for a handful of games and provide updates for some of its most popular games. All of these titles are expected to ship to major consoles like Sony's PlayStation 4 and the Xbox One systems. But a some of its announcements could also end up on Stadia, Google's cloud gaming service that revealed the games that will be playable on Stadia when it launches in November 2019.
EA was one of the companies that agreed to host its games on Stadia, but didn't give Google permission to declare which titles would be included. That means EA could take its E3 spotlight to unveil how it'll be leaving its mark on Stadia.
Here's everything to expect out of EA Play 2019.
E3 2019: 'Star Wars Jedi: Fallen Order' - 12:30 p.m. Eastern
EA will start with that is expected to be the biggest Star Wars video game of all time, Star Wars Jedi: Fallen Order. The title's cinematic trailer debuted at Star Wars Celebration 2019 in April, but come June 8 it will show off gameplay.
It's a single-player narrative game that will take place after Star Wars: Revenge of the Sith (2005). It will follow the story of Cal Kestis (Cameron Monaghan), a Jedi Padawan who survived Emperor Palpatine's "Order 66" that saw the last of the Jedi purged all throughout the galaxy.
The game will be released on PC, Xbox One, and PS4 on November 15. That launch date lands in the same month that Stadia is set to become available, which could make it one of the games that roll out with the cloud platform to build up its hype.
E3 2019: 'Apex Legends' - 1 p.m. Eastern
EA will also be introducing the world to Apex Legends Season 2. The free-to-play multiplayer shooter gave Fortnite a run for its money following it release, but its popularity has began to stagnate months later. E3 will hopefully change that.
During EA Play, the game's developers are expected to show off all-new in-game content and a notable map overhaul that could catch fans' attention.
"For Season 2 you can expect a Battle Pass with more meaningful content, the introduction of a new Legend, the debut of a new weapon… and you didn't expect Kings Canyon to stay the same forever, did you?" game developer Respawn announced recently in a blog post.
E3 2019: 'Battlefield V' - 1:30 p.m. Eastern
Much like Apex Legends, EA's World War II, first-person shooter Battlefield V will also receive a content upgrade. The game was originally released on November 20, 2018, and has sold a lackluster 1.9 million digital units, according to a market analysis by Super Data. EA Play will likely look to freshen up the game.
The event will feature gameplay from the recently announced Battlefield V - Chapter 4: Defying the Odds expansion. Expect a chat about the new locations players can explore, and any other new content that the DLC will bring with it when it launches on June 27.
E3 2019: EA SPORTS 'FIFA' - 2 p.m. Eastern
Another year, another FIFA. EA announced on June 7 that it would be host a "full reveal" of FIFA 2020 at EA Play. That means gamers will get all of the details about the titles, including the release date, any new mechanical additions, and potential alternate game modes.
Just like every other year, EA has worked to balance its soccer title's game play by tweaking control details and adding slight in-game capabilities.
FIFA 2020 would lend itself perfectly to Stadia. There's a thriving community of FIFA YouTubers that could leverage Stadia's "Crowd Play" feature to connect with their fans like never before. Crowd Play will allow Stadia users to jump into a game that's being live streamed on YouTube and begin play with the streamer. That could lead to fan challenges and other interactive video ideas.
E3 2019: EA SPORTS 'Madden NFL' - 2:30 p.m. Eastern
Much like FIFA 20, EA is gearing up to launch Madden 20 on August 2, 2019. It's the company's only sports game that has a confirmed new game mode to play titled "Face of the Franchise: QB1. The addition is expected to take over the game's pervious story mode and offer a more in depth role-playing experience of what it's like to be drafted into the NFL.
EA is sure to show off its new mode and any new game mechanics it added to polish Madden 20. Much like FIFA 20, the football title works almost perfectly with Stadia, allowing friends to stream gameplay and challenge others online.
E3 2019: 'Sims 4' - 3 p.m. Eastern
EA Play will come to a close with an update to the Sims 4. The title was originally launched in 2014, and transferred to console in 2017.
EA hasn't said too much about what it plans to show off during the Simsportion of its event, but expect it to consist of expansion content like new locations, skins, and more.
There will be a lot of updates and a few debuts sprinkled into EA's E3 2019 plans. But cloud gaming enthusiasts will be on the look out for which of its titles will make it on to Stadia. Google's game streaming service already has a strong roster, this debut could take it to the next level.