Newly surfaced GRRM interview has a promising 'Winds of Winter' update
The book is coming. Here's when.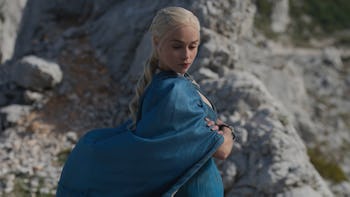 'Game of Thrones'
A Song of Ice and Fire fans need not worry about the forthcoming Winds of Winter too much. While the long-delayed penultimate installment of the saga may seem like an impossibility at this point, series mastermind George R.R. Martin has (we promise) been hard at work on the novel for years now. It's easy to lose faith considering how prone Martin is to delays of his own books (maybe keep in mind that it's bugging him just as much) but all signs point to Winds being well on its way towards completion.
Back in August, Martin spoke at length about his publishing plans in an hour-long interview at The Emmanuel Center in London. However, the interview was only released on YouTube in late September, and no one noticed it until a month later. Now, as fans comb through the video, they're turning up tons of fascinating details about the future of A Song of Ice and Fire and its supporting materials.
Martin addresses a number of small factors that have played into Winds' frequent delays. One of which relates very directly to his responsibilities as a writer for Game of Thrones as he addresses the fact that while he may have only written one episode per season, each of those episodes took roughly a month to write. That's a full month out of (roughly) each calendar year in which Martin worked on little else.
There's also the recent publication of Fire & Blood, the book detailing the history of the Targaryen family in Westeros. Published earlier this year, it's a massive tome that clearly took up a great deal of his writing time. Martin seems to address any queries as to why he took the time to write this when Winds of Winter has been so long delayed and the answer seems to come down to television.
"…it includes material in it that is going to be the basis of some of these successor shows, so maybe we should get it out first before the shows, and they agreed, so they said, 'Yeah, finish that one and then go back to Winds of Winter.'" he notes.
It makes perfect sense in the grand scheme of things. While Winds is sure to be out sooner or later, the shows in development right now are likely to hit screens first. Having a recently-published tome that covers some of the material featured on those shows will bode well for sales and also give the Game of Thrones prequel showrunners a blueprint to work from.
His most interesting tidbit on Winds came in an update on his long-running series of Dunk & Egg short stories that take place within the world of Westeros. When asked if we may see more of the titular characters soon, Martin offered something of a tentative publication schedule for the next few Westeros titles.
"But first I have this book The Winds of Winter," he said. "I have to finish that, and then I can write another Dunk and Egg story, and then I write A Dream of Spring, and then I write another Dunk and Egg story. At some point in there, I have to write the second part of Fire and Blood, so I have my work cut out for me."
According to Martin, Winds is his next book and his primary focus. While comments made slightly more recently seem to indicate that he'll also have to give plenty of attention to his TV projects, the book seems to be confirmed as his next publication venture. 
There's no telling just how much longer it'll be before the book comes out, but knowing that Martin is hard at work and prioritizing it above any other publishing ventures bodes well for any fans looking forward to the series getting one step closer to its conclusion — let's not even talk about A Dream of Spring for now — and after that stinker of a Thrones finale, who can blame them for wanting to see it done right?.