George R.R. Martin says 'Winds of Winter' delays are "haunting me"
"I have to put myself in a state where I'm not being distracted by other stuff."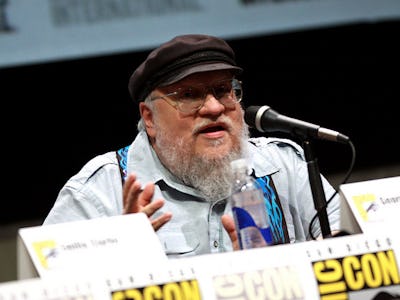 Gage Skidmore
HBO's Game of Thrones may be over, but A Song of Ice and Fire still has a ways to go. Author George R.R. Martin has been working on the series' penultimate installment, The Winds of Winter, for nearly a decade now and the book is still nowhere to be seen. If you've been frustrated by the book's constant delays, know that you're not alone. Martin says he's feeling just as anxious over the matter.
In a lengthy discussion with The Chicago Tribune reporter John Kass for WGN radio, Martin discussed how deeply the book's numerous delays have upset him, saying he often falls asleep "with Westeros and Ice and Fire in my head, haunting me."
Elsewhere in the interview, the author goes on to describe the series' rabid fanbase as a "mixed blessing." Martin says he's mostly gratified by fans' devotion, but "some of them are extremely impatient and some of them are full of their own ideas about the fates of the various characters." He goes on to say, with some sadness, that his days of writing in "quiet obscurity" are behind him. (Hopefully the giant sacks of money from book sales and HBO are some small consolation.)
The success of the Song of Ice and Fire novels and the TV series have obviously opened up a load of opportunities for Martin, which means Westeros is no longer his sole focus. "All of these other things are filling my head, and that is one of the things that's delayed me," he explained.
Martin's been in his feelings about The Winds of Winter all year, telling Anderson Cooper on 60 Minutes back in April that "it was a blow" when the show caught up to the books. His perspective shifted somewhat after the series finale of Game of Thrones aired in May, when Martin told Entertainment Weekly in July that he wasn't feeling much pressure to finish the novels since the TV adaptation had already outpaced them, saying "there's no longer a race."
For the moment, Martin seems committed to buckling down and finishing the book, admitting that, "I really have to get Winds done. I have to put myself in a state where I'm not being distracted by other stuff." He also tells Kass that getting older has left him with less energy, and part of him sometimes wished he had come into his stratospheric fame a few decades earlier. Even so, Martin says, "I still have a fair amount of energy and I still get a fair amount done."
Martin clearly recognizes the extent to which he's delayed the telling of his own story, and it can't be easy to watch another creative team effectively "finish" it in the eyes of the story's fans. The final season of Game of Thrones also left many fans dissatisfied. While much of that was due to the showrunners' hasty resolution of the story, the backlash may have made the author second-guess the vision he'd outlined for David Benioff and D.B. Weiss.
Nonetheless, Winds must be finished eventually, and it seems nobody knows this more acutely than Martin. Hopefully he'll find himself in a pure Westeros state of mind soon.