That German propaganda in 'Watchmen' Episode 2 is based on some painful, true history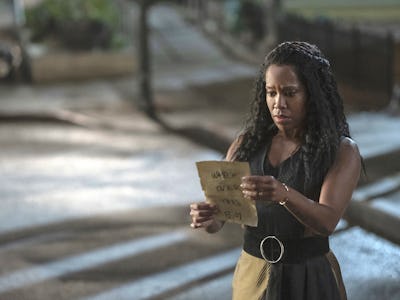 HBO
After Watchmen's explosive series premiere, Episode 2 begins with another gripping lesson in our own overlooked history. And much like Episode 1's retelling of the Tulsa race massacre of 1921, Watchmen Episode 2 tackles another bit of untold history with impressive accuracy: How German propaganda targeted Black soldiers in the U.S. army during World War I (and again in WWII).
Light spoilers for Watchmen Episode 2, "Martial Feats of Comanche Horsemanship" below.
Sunday night's Watchmen opening takes place in a German military office in WWI. A German leader dictates to a typist an open letter that is airdropped for Black U.S. soldiers in an attempt to weaken the American army and attracting them to defect. Unfortunately, they make a compelling argument.
Through a few lines laid out in bullet points, the letter states a simple truth: While Black soldiers fight and die for America, they are hardly Americans. They are still second-class citizens subject to violent racism. Even abroad, Black soldiers are not welcome in the army; for a moment, the show follows one Black soldier who is spat on by a white infantryman on horseback.
We never get a crystal-clear look at the letter, but the words "What is Democracy?" are hard to miss.
What you might not know is that letters like the one seen in Watchmen were real. Throughout the first World War, the Nazis really did make efforts to encourage Black soldiers in the U.S. Army to defect, or at least plant disillusion towards the so-called "Home of the Free." Leaflets such as the one in the episode carried very similar language. A surviving copy of one those letters from the National Archives reveals that several lines from the letter in Watchmen were lifted directly from history. Even the title is nearly identical.
While the Germans illustrated some indisputable truths towards America's hypocrisy with these leaflets, they weren't necessarily a better option. That's particularly true of WWII, where Nazi propaganda targeting Germans at home similarly included racially abhorrent drawings of Blacks, sometimes decrying the influence of Jazz during the Weimar era of the 1920s. The Nazis also carried out a secret forced sterilization campaign on over 500 biracial teenagers with African parents in Germany.
We don't know if the German efforts to win Black soldiers succeeded, but in Watchmen, one of those leaflets has a big impact on the life of one of them. The Black soldier we see spat on by a white troop ends up in the hands of Will (Louis Gossett Jr.), influencing his actions in this episode and beyond.
Nazi propaganda was ultimately not enough to turn the tide of World War I or II (it is unknown if any Black soldiers actually changed sides), but the influence of these leaflets reverberates into the alt-future seen in Watchmen. And just like the letter, such influence is no less true in the real world than it is on HBO.
Correction: An earlier version of this article misidentified the events of Watchmen Episode 2 and the German propaganda letter from WWI as references to WWII. We sincerely regret the error. Thank you Dan for catching the mistake.
Watchmen airs Sundays at 9 p.m. Eastern on HBO.