'Mandalorian' reviews won't arrive until after November premiere. Here's why.
Bounty hunting is a very complicated profession.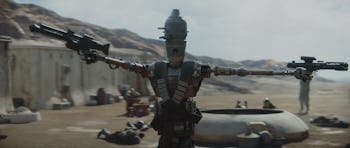 Lucasfilm
Bounty hunting is a complicated profession, one you won't hear about until after November 12. In a somewhat unusual move, Disney is withholding review screeners of the first live-action Star Wars series, The Mandalorian. That means fine websites like the one you're reading right now will not have reviews for the series until at least after the show's premiere.
On Monday, Disney informed the entertainment press that pre-release screeners for The Mandalorian will not be available. Screeners for other Disney+ shows and movies, such as The World According to Jeff Goldblum, The Imagineering Story, Forky Asks a Questions, Encore, and Lady and the Tramp have been provided. (Speaking personally as a former theater kid, I am escstatic for Encore.)
Typically, critics receive screeners or attend screenings of new shows ahead of the premiere date in order to publish their coverage, including but not limited to reviews, in a timely fashion. (Studios often set embargo dates as determined by marketing teams.) With The Mandalorian however, Disney is doing things a little differently. With the show's first episode said to contain massive spoilers for the entire Star Wars saga, it seems Disney doesn't want to risk any spoilers getting out beforehand. Just what could be in store in The Mandalorian?
Also in a break from the usual, The Mandalorian will have a staggered, semi-weekly release, a big change from other services that dump X amount of episodes at once. The first two episodes of The Mandalorian will be available within the same week (November 12 and November 15), while the rest will be released each week, mostly, with a break in between episodes seven (December 18) and eight (December 27) to account for the theatrical release of Star Wars: The Rise of Skywalker on December 20.
As for what you'll read on Inverse, you can be sure we will continue to publish coverage of The Mandalorian and other Star Wars or Disney+ shows when we can. We will continue to fawn over new images should they be made available, and we will publish interviews when they happen. And when we get to watch the series, you'll read our insight and critiques right here. That's pretty much how it goes all the time, the only difference is we'll be watching along with you guys. Just promise not watch it without us, okay?
Set in the years after Star Wars: Return of the Jedi and long before Star Wars: The Force Awakens, The Mandalorian stars Pedro Pascal (Game of Thrones) as an unidentified bounty hunter carving out existence in the edges of the galaxy. Despite the defeat of the Empire, pockets of loyalists are still up and running. As one character (played by Werner Herzog) posits, "Compare Imperial rule to what is happening now, is the world more peaceful since the revolution?"
Really good question. We'll find out on November 12.
The Mandalorian premieres November 12 on Disney+.