Matthew Broderick had a hard time with that 'Overwatch' joke in 'Daybreak'
Showrunner Aron Eli Coilete, a gamer himself, reveals the origins and purpose of a wild 'Overwatch' joke in the first episode of Netflix's new series.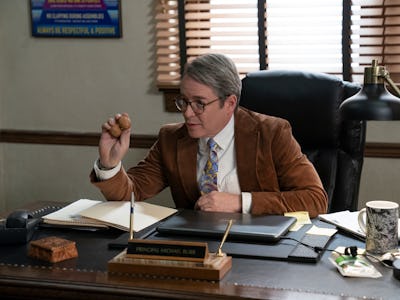 Netflix
Matthew Broderick is an '80s film legend with timeless roles in WarGames, Ferris Bueller's Day Off, and Glory. Yet, for the new Netflix series Daybreak, the veteran actor had a "hard time" trying to say the words "thermoptic camouflage" while trying to tell a rather intricate joke involving the popular online shooter game, Overwatch.
In the new post-apocalyptic teen comedy series Daybreak, based on the comic series by Brian Ralph, Broderick plays high school principal Michael Burr. In the first episode, Principal Burr does the ultimate "How do you do, fellow kids?" by revealing Sombra as his main in the online FPS game Overwatch.
Here's the exchange:
Burr: "Oh, I don't know Wes. I usually play Sombra in Overwatch."
Turbo Bro Jock: "You play as a girl?"
Burr: "Sombra has thermoptic camo. I like that. You can't hit what you can't see."
"It was a delightful moment on set," says showrunner Aron Eli Coilete, who cracks up remembering the joke with Inverse. "He's a wonderful actor, and I don't think I'm spoiling anything by saying he had no idea what thermoptic camouflage was. He had a hard time saying, 'thermoptic camouflage.' But it was delightful."
Coilete also showed Broderick Overwatch behind the scenes to give the two-time Tony Award winner a sense of what he's referencing. "He's like, 'I don't understand what I'm saying or what this is.' It was utterly delightful."
What's funny about Broderick's role as the square adult in a show full of hip teens is that, not long ago, Broderick was the epitome of cool. In the classic John Hughes movie Ferris Bueller's Day Off, Broderick played the titular Ferris Bueller, a charismatic high school senior who gets away with cutting class to have the most epic afternoon of a lifetime.
There's a lot of Ferris Bueller in Daybreak, including the show's protagonist Josh Wheeler (played by Colin Ford) who talks directly to the audience in the same way Ferris does. But Broderick, Coilete says, didn't want Daybreak to be a carbon copy of Ferris Bueller's Day Off. "We were told early on that Matthew did not want any references to Ferris. But they're all over the script," Coilete says.
He adds, "You will see where [Broderick's] character goes and start to understand, this is a challenge for Matthew. This is playing against anything he's done before. To go from the hero to the principal was a nice challenge for him. I think he responded to that, and not just references to Ferris. We owe a lot to John Hughes and we pay homage, but we twist the tropes."
And shouting out a popular video game was more than just trying to be cool to the show's audience. Coleite, who tells Inverse that he also plays Overwatch (he mains Wrecking Ball), said Sombra's cloaking powers were chosen to foreshadow what happens to Principal Burr later in the series.
"We chose the character he plays, and chose camouflage, as a slight bit of foreshadowing," the showrunner tells Inverse. "I'm a big Overwatch fan. To have Matthew talk to [show stars] Colin and Austin about the games was so fun."
Daybreak is streaming now on Netflix.