'Daybreak' showrunner says Season 2 "really turns things on its head"
The first season is now streaming, but what awaits Season 2 of Netflix's newest teen comedy?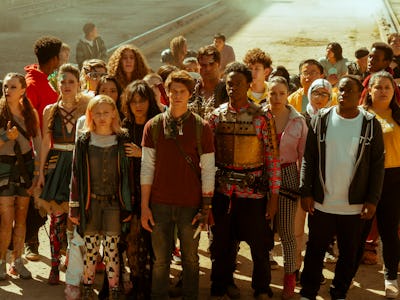 Netflix
Just in time for Halloween, Netflix's Daybreak is now streaming its freshman season. For ravenous binge-watchers who have already finished all ten episodes, there is only one question that remains: Is Season 2 on the way?
Talking to Inverse, showrunner and series co-creator Aron Eli Coleite says work on Season 2 is in development, though it may be too soon to say anything. "We are currently writing Season 2," Coleite says. "We have the full writers room going, and Season 2 really turns things on its head."
In Daybreak, based on the comic book series by Brian Ralph, California teenager Josh Wheeler (Colin Ford) embarks on a search for his missing girlfriend, Sam (Sophie Simnett) in the aftermath of an apocalypse.
Whether you've seen all ten episodes of Season 1 or have yet to begin the binge, Coleite says of the finale: "There's a very epic cliffhanger that you won't see coming, which definitely sets up fans for Season 2."
While Coleite won't spill what will happen in the second season, he did suggest how how Season 2 will change things up from the first run of episodes. "Everything about this show is about point of view, and who is telling the story," he explains. "The hint I can give is, you can't trust us. You can't trust anybody. You have to think about who is telling the story and their point of view, and how and why they're gonna tell the story in the way they're gonna tell it".
While Daybreak is the story of Josh Wheeler, much of the show's ensemble cast get to reveal how they see the end of the world, which tremendously differs from Josh, or Wesley, or even Sam. And flipping point of view "certainly goes" into Season 2, says the showrunner.
"One of the things that we are absolutely trying to do is not only break the fourth wall. We're trying to shatter the fourth wall," Coleite says. "We want the audience participating in this with us. We're all playing this game together. That's why the cliffhanger at the end of the season will make total sense and yet will be as shock."
Of course, Season 2 will only happen if Netflix deems it. There are currently no official word on whether Netflix is set to renew Daybreak. Because the streaming giant is famously secretive of its audience's viewing habits, really the only way to guarantee more Daybreak is to simply watch all of Daybreak.
Daybreak is streaming now on Netflix.