How Dominic Monaghan got his 'Rise of Skywalker' role after a World Cup bet
The 'Lost' and 'Lord of the Rings' star has a role in 'Episode IX.' Here's what you need to know.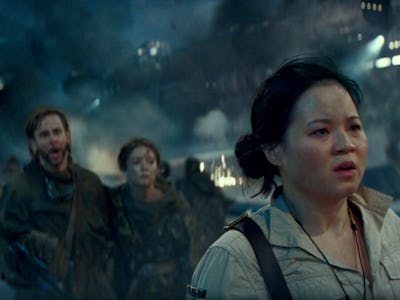 Lucasfilm
If there was ever an EGOT to give for actors getting to appear in all the major cinematic universes, Dominic Monaghan would be the first recipient. Best known for his role as Merry in Peter Jackson's Lord of the Rings trilogy, Monaghan has also starred in the cult ABC series Lost and the mutant Bolt in X-Men Origins: Wolverine. And now, he's got a speaking role in Star Wars: The Rise of Skywalker.
On Monday, the final trailer for Star Wars: The Rise of Skywalker premiered during ESPN's broadcast of Monday Night Football. Amidst all the reveals, lightsaber battles, and space horses, one character made their epic debut.
No, not Keri Russell's Zorri Bliss. We mean Dominic Monaghan as a nameless Resistance fighter, a role that Monaghan actually won after a playful bet with director and friend, J.J. Abrams. While Monaghan says his role is minor and only appears in a handful of scenes, the experience was still a dream come true.
Here's everything we know about the Lost star's role in the Star Wars universe.
Who is Dominic Monaghan playing?
Dominic Monaghan plays a thus far anonymous Resistance fighter, and can be seen in the final trailer screaming out to a character off-frame. Monaghan appears in the background behind Rose Tico (Kelly Marie Tran) and beside Billie Lourd, the daughter of the late Carrie Fisher. Like Monaghan, Lourd plays a Resistance fighter, which she reprises from 2017's Star Wars: The Last Jedi.
Early in October, Monaghan shared an official look at his character on his Instagram page. "Oh it's on now," he wrote.
So, that's it?
That's it. The role is a minor one, though everyone in the Resistance plays an important part when it comes to saving the galaxy. (Only a few get to wield lightsabers though.)
The role was written by Abrams pretty much with Monaghan in mind. The two became friends through the ABC series Lost and nerded out together over their shared love of Star Wars. When Abrams was tapped to direct 2015's The Force Awakens, Abrams told Monaghan that the studio was looking for mostly unknowns, which led to the casting of John Boyega and Daisy Ridley.
After The Last Jedi, Lucasfilm hired J.J. Abrams to complete the series after Colin Trevorrow, who had been hired in 2015 to direct the third film, was fired from production in 2017 and replaced by Abrams.
In September 2018, Monaghan appeared as a guest on the talk podcast Distraction Pieces with Scroobius Pip where he discussed (among other topics) his journey into The Rise of Skywalker. Abrams promised the possibility of a role to Monaghan, which led Monaghan to telling his agent to avoid other, higher-paying projects just to be available for Star Wars.
Later, Monaghan was watching England play Colombia in the World Cup, a historic game for the English when Monaghan received the email of a lifetime. "At the start of that game," recalls Monaghan, "because J.J. is a motherfucker in the best way possible, he emailed me and he said, 'I think I have a Star Wars part for you.' And I wrote back and said, 'Brilliant, I won't bother you but let me know if there's anything I can do or what I can say.' He wrote back and said, 'If England beat Colombia, you're in.' I was like, oh mate, you bastard."
After 120 minutes, England won the penalty shoot-out, which alone had Monaghan jumping and screaming. But he also knew what J.J. Abrams promised him: A role in Star Wars: The Rise of Skywalker. "You're in."
Because Monaghan and Abrams are also friends, Abrams was able to give Monaghan a peek at the script, which was still in the middle of its drafting stages. Monaghan recalled on the podcast:
"[He told me], 'Just be aware of the fact that there are massive sequences in Act Two, there are massive sequences in Act Three but because we're shooting Act One first, I've put you in there and you seem to not be around as much in Act Two and Act Three but that's because that's what we're doing first so I want you here, I want you invested. So read the script but just know there won't be long until there'll be a re-draft of those things and we'll see you a little bit more'. So I read it, and the script is amazing and obviously there isn't a lot I can say."
Later on the podcast, Monaghan recalled sharing a huge with Chewbacca on set (Finnish basketball player Joonas Suotamo in his full costume). "I was emotional," Monaghan said. "[I] had to check my emotions a little because I was at work. But I was able to give Chewbacca a hug. It's real, man."
Star Wars: The Rise of Skywalker hits theaters on December 20.