Zorri Bliss is awfully easy to miss in latest 'Rise of Skywalker' trailer
Blink, and you might not notice the galaxy's coolest new rogue in 'The Rise of Skywalker' trailer.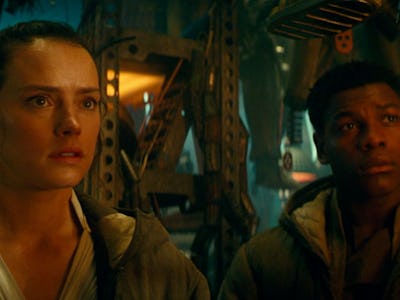 Lucasfilm
There is so much going on in the new trailer for Star Wars: The Rise of Skywalker that it's easy to miss one of the biggest new characters make their debut. Kerri Russell's masked "Zorri Bliss" finally appears in the new trailer for The Rise of Skywalker. But because of her costume and the set's color design, Zorri Bliss practically blends in like a ninja.
On Monday, the newest trailer for Star Wars: The Rise of Skywalker premiered during Monday Night Football before racking up five million views (and counting) on YouTube. Packed with big moments like the Emperor's throne, Rey versus Kylo, and C-3PO crushing our hearts — all set to a remixed John Williams theme that soars — the trailer for The Rise of Skywalker is officially one of the franchise's best. Watch it here if you missed it.
But if you blink, you could miss Zorri Bliss. Just before the trailer's most devastating moment where C-3PO bids farewell to his friends (which, we might add, happen for reasons that are still not clear), Oscar Isaac's Poe asks Threepio, "What are you doing there, Threepio?"
Standing next to him, on Poe's right, is Zorri Bliss, just chilling out like a badass behind their sleek helmet.
This is huge! This moment in the trailer is, in fact, the first time we're seeing Zorri in any footage from The Rise of Skywalker. The character was previously revealed in a photo spread on Vanity Fair earlier this summer, where Russell, the Emmy-nominated star of FX's The Americans, kept a very tight lip on Zorri's background and personality.
"I do have the coolest costume," she told Vanity Fair. "I will say that."
There's no arguing with her. Zorri Bliss' outfit, looking as if someone kit-bashed Daft Punk and Power Rangers toys together, has the same sleek aesthetic that made Boba Fitt one of the best Star Wars action figures of all time.
At D23, Russell told Variety Zorri is an "old friend" of Poe, which can likely put to rest any sort of speculation that Zorri is secretly Rey's mom or whatever fan theories have cooked up. Said Russell:
"She has a little bit of a checkered past and maybe some questionable morals, but she's really an old friend of Poe's. I think the entrance of Zorri is there to describe more of who he was, y'know, in a very intimate way and a familiar way, and the friends are sort of like, 'What do you mean, you know him?'"
Zorri's absence until now suggests she may or may not get in too deep in the action in The Rise of Skywalker. (Then again, Boba Fett only had like ten minutes of screen time in Return of the Jedi and that dude still managed to fight Luke and Han before falling into the Sarlacc pit.) Zorri looks too cool to not get involved in the battle against the First Order, but if all she does is stand around and look cool, then that's fine too.
Star Wars: The Rise of Skywalker hits theaters on December 20.