'BoJack' Season 6, Part 1 review: A rocky start for the show's final season
By breaking Season 6 into two halves, the series deprives fans of what makes 'BoJack' so great to begin with.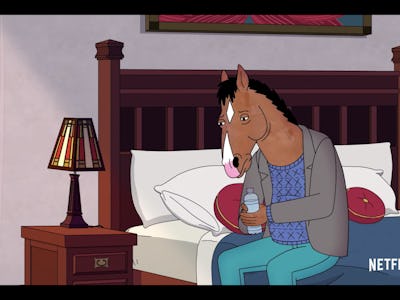 Netflix
When BoJack Horseman first landed on Netflix in 2014 it felt like a gift from above, a perfect animated series that seemed to arrive fully formed and somehow only got better with each successive season. But as showrunner Raphael Bob-Waksberg and production designer Lisa Hanawalt launched their own shows with mixed results (Bob-Waksberg's Undone is intriguing but unfulfilling, Hanawalt's Tuca & Bertie is a BoJack-Broad City mashup five years too late), it became clear that the magic sauce of BoJack was the way these two brilliant artists worked together.
BoJack has always been more than the sum of its parts, but as one of Netflix's first great originals races to its ends (Part 1 of the final season drops on October 25) the seams are already starting to fray. In dividing Season 6 in half, the show can't deliver much of what makes BoJack so great. And while there's still plenty to enjoy in both the story and the animation, these eight episodes fail to recapture the original magic more often than not.
Season 6, Part 1 starts strong with a string of episodes catching up with the various main characters. BoJack enters rehab and goes an adventure with a younger at-risk addict in a story that delivers some of the show's trademark visual humor inspired by a world where animals live like humans; one background gag features a seal at a house party balancing a keg on its noise, while another extended-joke introduces a painted self-portrait of an artist who I can only assume is called Frida Koala.
Meanwhile, Princess Carolyn deals with single motherhood in Episode 2 (reminder: Season 5 ended with her adopting a baby), which manages to convey the pressure of being an overwhelmed parent to the point that I was viscerally uncomfortable by the end (in a good way). I also love the way Carolyne jumps up onto the furniture like a cat during a particularly tense moment in Episode 4.
Episode 3 focuses on Diane as she travels the country as a video producer for her online news employer Girl Croosh. There's a sad love story that feels like standard BoJack but still works, along with the usual Diane-focused jokes about being a journalist in the late 2010s — one scene about Girl Croosh getting acquired by a larger company owned by an evil gazillionaire even namechecks the Gizmodo constellation of sites and its old owner Univision.
Elsewhere, Todd is still Todd as he continues to be a white man failing up at astronomical speeds, and Mr. Peanutbutter is still Mr. Peanutbutter (and still dating that pug introduced last season). Oh, there's also a cool new animated intro that revisits some of BoJack's best (and darkest) moments.
But as the first half of BoJack Season 6 nears its own halfway point, it loses momentum. We get a bizarre subplot about a Hollywoo assistants strike (maybe a metaphor for the unionization efforts that delayed Season 6?) and a story about BoJack zigzagging the country to meet up with old friends. The final episode omits the lead horse entirely to focus on BoJack's half-sister Hollyhock while also introducing a journalist who seems to be turning over every loose stone in the show's five-season history. None of it really lands, only serving to set up the true finale coming on January 31.
Worst of all, Season 6, Part 1 is missing the usual standout artistic effort ("Fish Out of Water" in Season 3, "Free Churro" in Season 5) we've come to expect from each new batch of episodes. The Part 1 finale almost feels like an attempt to do that by leaving out the protagonist, but it can't measure up to those other high points in the series' history.
The formula for a season of BoJack Horseman feels obvious by now: a series of oddball episodes build towards an incredible climax that somehow combines everything in a way that works perfectly. But by breaking Season 6 into two halves, the series deprives fans of that magic moment when it all clicks.
I'm still hopeful that Season 6, Part 2 can nail that landing. I haven't given up faith in the combined powers of Raphael Bob-Waksberg and Lisa Hanawalt just yet. But these eight new episodes aren't a great sign for anyone hoping that BoJack's final season will be the best one yet. I just hope Netflix proves me wrong in January.
BoJack Horseman Season 6, Part 1 premieres October 25. Part 2 releases next year on January 31.