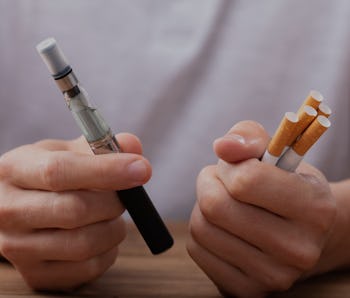 Mind and Body
The debate between cigarettes and vapes has a clear winner for now
But how long will the victory last? 
Shutterstock 
When Surgeon General Jerome Adams declared that youth vaping was an epidemic, he was careful to allow one major exception: it may be useful for adult smokers who are seeking a less dangerous alternative. The CDC's homepage on e-cigarettes echoes that idea. Meanwhile, over in the United Kingdom, Public Health England stands behind their assertion that vaping is 95 percent safer than smoking cigarettes.
"There is no doubt that they are safer than traditional cigarettes."
But 2019 has been a landmark year in vaping precisely because of negative repercussions linked to the practice. In September, a vaping related lung injury was tied to black market vaping products (mostly THC vapes). This fall, bans on flavored vape juice are being considered by several states because of their potential role in driving the illness. So it begs the question: Is vaping actually safer than smoking a cigarette?
According to Emma Beard, Ph.D., a senior research associate at University College London, the answer looks like it's yes. She tells Inverse that there is solid evidence suggesting vaping is safer than traditional cigarettes. The argument largely hinges on the fact that vaporizers don't actually burn anything and the burning of tobacco releases at least 70 cancer-causing chemicals into the lungs.
"There is no doubt that they are safer than traditional cigarettes and therefore smokers should be advised to use them to help them stop smoking," Beard says.
How does swapping a vape for a cigarette play out in the long term? One study found that some vapers still experience a handful of long-term health complications, including coronary artery disease, heart attack, and depression. Importantly, the rates of these repercussions were still lower than those seen in smokers.
When it comes to lung cancer, perhaps the major consequence of smoking, its links to vaping is less clear. Smoking is a leading cause of lung cancer in the United States. Meanwhile, vaping has demonstrated some very early connections to lung cancer development in mice, though that research has been criticized.
At the end of the day, the National Academy of Science 2018 report on e-cigarettes notes that there is conclusive evidence that vaping exposes people to fewer harmful chemicals than smoking does. Of course, that assumes that you've totally switched from one to the other. If you're still smoking cigarettes on the side, you're still at risk for all of smoking's dangerous consequences.
Critically, just because vaping may be safer than smoking that does not mean that it's completely safe. While know what the long term effects of smoking are, but we don't know what the long-term effects of vaping are. It just hasn't been around for long enough.
Early studies have shown that certain flavors used in vape juice can cause pose dangers to the cells that line blood vessels when used in extremely high amounts. Some flavoring chemicals like diacetyl can cause conditions additional irritation in lungs, or a condition called popcorn lung. Other studies have shown that vaping can introduce chemicals into the mouth that are linked to DNA damage.
Overall, the long term effects of vaping are still unknown. For now, whether vaping is safe or not, really comes down to what you're putting in that vape cartridge to start with. What's totally safe to inhale is an open question, and even the FDA doesn't have definite answers to that question yet. The public's embrace of vaping is moving faster than the pace of scientific understanding — and while e-cigarettes appear safer than smoking, how safe they are is still in question.
For more stories on the science of vaping, check below: