'GTA 6' likely coming out in 2020 or 2021, according to series voice actor
"Do the math," Steven Ogg told an audience at Brazil Game Show.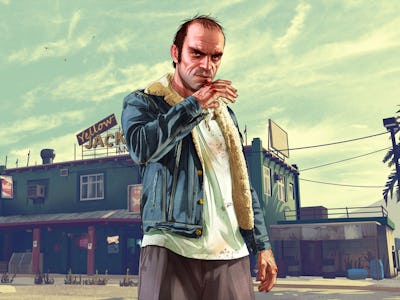 Rockstar Games
With the next generation of consoles like PS5 and Xbox Scarlett slated to debut in late 2020, speculation has turned to which games will launch alongside the new hardware. Arguably the most coveted of all is Grand Theft Auto 6. With more than 110 million copies sold since its 2013 debut, Grand Theft Auto 5 has become a peerless cultural and gaming institution — in addition to being a hell of a lot of fun to play. Actor Steven Ogg, who voiced Trevor in GTA 5, recently dropped some tantalizing info for eager fans of the series, sharing his opinion that GTA 6 would likely be out next year or the following year.
According to a Twitter user who who attended the show, Ogg told a panel at Brazil Game Show that Rockstar would likely release the next GTA game "soon," noting that new installments in the series typically "take 7-8 years to make, do the math." It's not clear from this second-hand account if Ogg had been asked to do any further voice work for Rockstar, or whether this was merely an educated guess from someone who's worked on a GTA game before.
As Games Radar notes, it's entirely possible that Ogg's character could return in GTA 6, as the series has a history of bringing back former protagonists for surprise appearances.
Ogg's comments come amid renewed flurries of speculation and rumor-mongering about Rockstar's upcoming slate of games. Earlier this month, in an interview otherwise unrelated to the gaming industry, a former Rockstar India employee claimed to have worked on Red Dead Redemption 2 and "a couple of games I can't name yet." Just a few days before that, two anonymous sources claiming to be insiders at Rockstar North alleged that the studio had pulled the plug on Bully 2, presumably in the interest of shifting focus to GTA 6.
Speculation about a possible next installment in the Grand Theft Auto series suggests the game will be reminiscent of Netflix's Narcos. Multiple leakers have claimed the upcoming title is code-named "Project Americas," and will allow players to revisit beloved in-universe locations, like Liberty City and Vice City.