'Ant-Man 3' release date allegedly leaked as part of Marvel Phase 5
Here's when Paul Rudd will return to the MCU.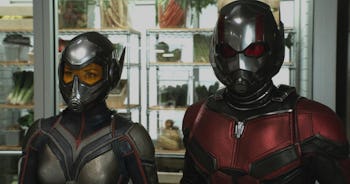 Marvel
Scott Lang is still a bonafide Avengers in the Marvel Cinematic Universe, but the fate of the Ant-Man franchise feels a little more perilous. While everyone involved seems game to make Ant-Man 3, the movie is notably absent from the MCU's Phase Four timeline. The pint-sized hero didn't even get a shout out from Marvel Studios boss Kevin Feige at San Diego Comic-Con when he teased sequels for Black Panther, Captain Marvel, and Guardians of the Galaxy.
So Ant-Man fans were right to feel worried, especially after various rumors claimed that another movie wasn't in Marvel's future. However, a new leak from a reliable MCU tipster not only claims to confirm that Ant-Man 3 is coming. It even offers a firm release date.
Twitter user @_CharlesMurphy has been sharing updated timelines for Marvel's Phase Five over the past few months, potentially revealing when movies like Black Panther 2 and even Avengers 5 could release. His latest update, tweeted on October 17, adds Ant-Man 3 to the mix with a Phase Five release date of July 29, 2022.
In a series of follow-up posts, the leaker notes that his Ant-Man 3 leak is based off the creation of a new production company specifically focused on the movie.
"Pym Particles Productions III exists," he wrote. "They create these LLCs when they make films/shows. This is news, not a rumor."
In another tweet he explained his reasoning for the specific release date:
So while I haven't been given a release date for AM-3, my thought process is that if it does in fact film in Summer of 2021, it will be the July 2022 film. Both Ant-Man films debuted in July. So I am updating my pinned post based on this logic.
Makes sense, right? Right!?
We're also very curious about that one remaining mystery release date. Murphy previously reported that Black Panther 2 had moved from February to May 2022. So what could fill that spot? Maybe Guardians 3 or Captain Marvel 2?
Murphy's timeline also includes the Disney+ shows, and he also leaked this week that the Ms. Marvel series will begin filming in April 2020. So perhaps Marvel Studios has February earmarked for the introduction of Kamala Khan.
As always, these leaked Marvel timelines are subject to change. So don't plan your 2022 summer around the Ant-Man 3 release date just yet. Still, any Paul Rudd fans worried about his fate in the MCU should take these rumors as a very good sign.