'Black Panther' 2 release date allegedly delayed, leak says
We can't wait to go back to Wakanda.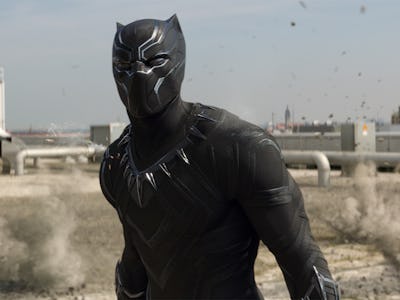 Marvel
The only thing we know about the Black Panther 2 release date is that it's probably coming in Marvel's Phase Five, which kicks off in early 2022. However, recent leaks from a historically reliable MCU leaker may reveal that T-Challah's return has already been shuffled around in the Marvel Cinematic Universe. And not for the better.
Twitter user Charles Murphy has an impressive track record of leaking Marvel release dates. Back in July, just before Marvel revealed its Phase Four lineup, Murphy accurately leaked the entire movie slate. Then, soon afterwards, he shared an updated calendar that included Black Panther 2 with a tentative Feb 18, 2022 release date and a mystery movie in May 2024 that we think could be Avengers 5.
It's worth noting that Murphy qualifies these leaks with the statement that the movies and dates are "always subject to change," not just because his sources might be wrong, but because Marvel often shifts things around internally. So it shouldn't come as such a huge surprise when a September tweet revealed a new alleged Black Panther 2 release date: May 5, 2022.
So does this mean that Black Panther's (unannounced) release date was delayed by three months? Maybe, like we said, nothing here is official until Marvel confirms it. And even then, things change. (Remember Inhumans?)
That said, it's interesting that Black Panther 2 may no longer be scheduled for February since that's when the original Black Panther released. Then again, Marvel may may confident that the sequel can succeed in May, which is typically more competitive for movies. It could also have something to do with Ryan Coogler's progress so far.
Speaking to The Wall Street Journal, Disney CEO Bob Iger revealed that Coogler is "just beginning the process of outlining the story." So maybe that explains the new alleged release date. Though does three months really make that big of a difference?
The most likely explanation (assuming this slight delay is real) is that Marvel wants to make sure Black Panther 2 falls into the right spot within its larger Cinematic Universe, and considering all the shows and movies in the works, it's pretty much impossible to predict what the MCU will look like in 2022. But if delaying the Black Panther release date by three months is what Marvel needs to do to tell a good story, that's fine by us.
Black Panther 2 is a part of Marvel's Phase Five.