'Fortnite' Chapter 2 just devastated one big community of gamers
There's an existential crisis brewing among Fortnite's original devotees.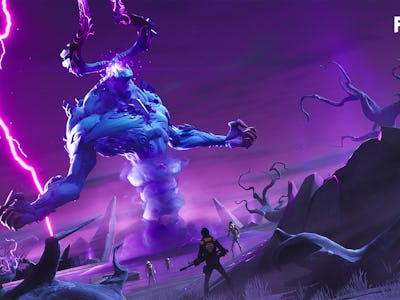 Epic Games
To hear the original Fortnite fans talk about the game, it sounds like developer Epic Games has all but abandoned a huge swath of its loyal fanbase in favor of a more lucrative focus on battle royale. While most Fortnite players are eagerly stepping into a new world of Chapter 2, those who regularly play Save the World, the story-based game Battle Royale was adapted from, feel defeated and devastated.
"Just … just let [Save the World] die," one player wrote in a heartbreaking Reddit post. "This is embarrassing for everyone involved. … cut off the vestigial limb that was the original game and stop the embarrassment."
The oft-forgotten truth about Fortnite is that the game's humble beginnings were in a co-operative player-versus-environment experience released July 2017. In Save the World, you team up with your friends or play solo to evade a freak storm that wiped out 98 percent of humanity. You fend off zombie-like creatures using all manner of weapons and technology. But there's a colorful cast of characters, and you level up along the way in a character progression system that's just robust enough. When PlayerUnknown's Battlegrounds saw tremendous success as the first-ever battle royale game, the Fortnite development team pivoted to rework their game into something similar.
Fortnite: Battle Royale went live September 2017, and the original game was rebranded as Fortnite: Save the World to distinguish between the two.
As Fortnite: Battle Royale's success grew exponentially in 2018, the amount of resources seemingly put into Save the World continued to dwindle. Forget the ongoing disconnect between casual and competitive Fortnite: Battle Royale. The real disconnect comes from the lack of investment into what many consider the "real" Fortnite.
The frustrating irony is that for all the times Epic calls Fortnite an "early access" game that's "free to play," Save the World still costs $39.99 for the standard edition or $59.99 for deluxe. The promise was that buying Fortnite: Save the World now would be an investment in the game it would one day become, but now it feels like that'll never happen. There was even the option to pre-order at a discount for this very reason.
The original llama loot box microtransactions were also so "predatory" that someone sued Epic Games earlier this year. Epic makes a lot more money from people buying battle passes every 10-12 weeks, but at least when you drop 950 V-Bucks on a 100-tier battle pass, you know exactly what you're getting.
When people buy Save the World, they're getting an unfinished game that shows no signs of reaching completion. "Refund the purchase price for early adopters as V-bucks and cut off the vestigial limb that was the original game and stop the embarrassment," one player suggested on Reddit.
Exploring the subreddit dedicated to Save the World is a confusing and depressing experience — but also one that's much more wholesome than the Battle Royale subreddit.
When the Battle Royale event called "The End" sucked all of Fortnite into a black hole on October 13, the frustrated members of the Save the World subreddit goofed around in a single megathread that lasted all the way up until the launch of Chapter 2. They were hopeful that the relaunch of Fortnite might also mean good things for Save the World, that maybe both portions of the Fortnite experience might get completely overhauled.
That didn't happen.
According to one player on Reddit, all they got was a half-hearted apology and a Hero Recruitment Voucher to recruit a new playable character. But for anyone who plays Battle Royale, they were treated to a refreshing new world with new items, new mechanics, and more.
Another fan offered a lengthy takedown of Epic Games' roadmap for Save the World's future.
"Fortnite has the potential to last years," they wrote. "FortniteBR on the other hand, can easily be cloned and/or beaten."
No other video game developer has been able to match Fortnite: Battle Royale in terms of sheer capitalistic alchemy. Apex Legends came close, but even though many would consider it a better game, Fortnite maintains a much larger player base.
Ryan Broseker, aka Magyst, a community manager for Epic Games, admitted in August to the Save the World community that Season X had been "rough" for them. "Can't wait for you guys to see S11," he wrote. "Definitely some really incredible stuff there." This made the community hopeful things might improve. They didn't.
You can't help but feel bad for the people who invested a lot of time and passion into this game, but you also can't blame Epic Games for focusing their development efforts into a much more lucrative option. Is a happy medium possible here? Or is Fortnite: Save the World destined to die in obscurity juts like Epic Games' cancelled Paragon?
In both cases, the killer is clear: It was Battle Royale's success that doomed Epic's other games