'Dragon Prince' Season 3 episode titles leak teases King Harrow's return
It's in a flashback, but still.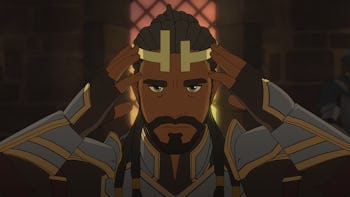 Netflix
One of the most popular characters on The Dragon Prince was killed off early in Season 1, but some fans of the Netflix animated series still have hope that King Harrow will return. Season 2 featured an extended flashback that showed King Harrow and Queen Sarai embark on an adventure, and it looks like Dragon Prince Season 3 could give fans another glimpse of the dead king back in action.
Warning: Possible, light spoilers for The Dragon Prince Season 3 ahead.
Before we go any further, it's worth mentioning that Dragon Prince co-creators Justin Richmond and Aaron Ehasz have officially confirmed that King Harrow really is dead. He didn't secretly swap bodies with that bird from Season 1, and he won't be coming back through some other dark magic deception.
Season 2 got around that by giving us an awesome flashback, which also revealed Queen Sarai and then showed her death at the hands of the dragon king Avizandum (aka, Thunder). We also know that Thunder was subsequently killed by the humans, which is what sparks the conflict at the beginning of The Dragon Prince. Now it looks like Season 3 could provide even more info about the conflict between these two now-dead kings.
In an official poster for The Dragon Prince Season 3 revealed at New York Comic Con, we see King Harrow riding on horseback towards none other than Thunder. Harrow is holding the same spear Sarai once used, though according to the show's creators, it's been modified for the king to wield.
So it seems clear that the scene depicted in this poster, which we assume will happen in The Dragon Prince Season 3, takes place after the Season 2 flashback showing Queen Sarai's death and before the start of Season 1. But when in Season 3 will this showdown happen? That's where the leaks come in.
Netflix hasn't officially revealed episode titles for The Dragon Prince Season 3, but a Twitter leak claimed to reveal all nine (the show's creators did confirm a nine-episode season at NYCC) back in September. According to Twitter tipster @CosmoTheEgg, the first episode is titled "Sol Regem," which lines up with what we saw at the panel. Here's the rest of the Season 3 episode titles:
305: Heroes and Masterminds
There's a ton to unpack here but the biggest clue is probably the title of The Dragon Prince Season 3, Episode 6 "Thunder fall." That sure sounds a lot like a showdown between Thunder and King Harrow. Then again, "Dragon guard" also gives us similar vibes. So maybe the upcoming season will stretch this flashback across multiple episodes again like it did in Season 2.
It's also worth noting that Dragon Prince co-creator Aaron Ehasz recently confirmed that Thunder will be voiced by Chris Metzen, a game designer known for working on titles like Warcraft and Diablo, but also for his voice work in various video games and the occasional TV show.
That means not only will Thunder show up in The Dragon Prince Season 3, but he'll speak. That's a first for the character, and as far as I can recall, we hadn't seen any dragons actually speak in the show's first two seasons (it happens in the Season 3 premiere, though).
In case that wasn't exciting enough, here's Ehasz teasing Metzen's performance on Twitter:
You will be shaken by @chrismetzen's performance in season 3 of #theDragonPrince.
Wow! The Dragon Prince Season 3 can't come soon enough.**
The Dragon Prince Season 3 hits Netflix on November 22.