Huge 'Shang-Chi' leak may reveal perfect plot and casting for Marvel's Phase 4
There's a big 'Shang-Chi' leak on the internet right now that hints at potential casting. It'd be great if it were real.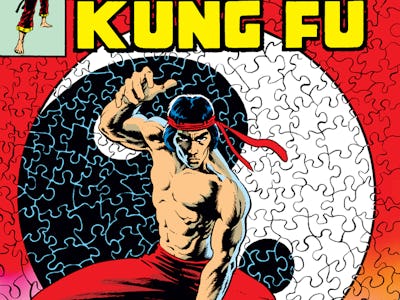 Marvel Entertainment
With more than a year left until Marvel Studios releases Shang-Chi and the Legend of the Ten Rings in 2021 as part of the Marvel Cinematic Universe Phase 4, speculation is wide open, which leaves this new 4chan leak to be worth entertaining, at the very least.
On Sunday, a 4chan thread revealed some possible information on Shang-Chi and the Legend of the Ten Rings. (For those who want to avoid 4chan, which is wise, hop over to this Reddit thread discussing it instead.)
The leaks not only contain some interesting bullet points, but also some concept art. The pieces are watermarked to Jordan Nazari, a concept artist from the UK whose LinkedIn does not include work experience with Marvel Studios.
Announced at San Diego Comic-Con this summer, Shang-Chi and the Legend of the Ten Rings will adapt the cult 1970s Marvel comics, Master of Kung Fu, which starred the Marvel Universe's first Asian superhero, Shang-Chi. Lasting over 125 issues, the series saw Shang-Chi travel the globe in a mission to stop his father, the villainous Fu Manchu.
At the time, Marvel had an agreement with the estate of author Sax Rohmer to use characters from his Fu Manchu series. When that agreement expired, direct references to Shang-Chi's family heritage became vague. In 2019, Marvel announced Shang-Chi and the Legend of the Ten Rings, with the original Marvel villain the Mandarin as Shang-Chi's father and nemesis.
Here are what the anonymous leaks reveal about Shang-Chi:
The plot involves Shang-Chi (Simu Liu) recruited by British Intelligence, MI-6, to keep his father, the Mandarin (Tony Leung), from claiming the Ten Rings and conquering the world. The Ten Rings aren't literally ten rings, but a shadow organization that's operated in secret for centuries. In the comics, the Mandarin did actually wear ten magical rings, each of which contained the soul of a cosmic warrior.
Shang-Chi's associates in the film include Clive Reston and Leiko Wu, two MI-6 agents. Whereas Shang-Chi was loosely modeled on Bruce Lee (or otherwise generic kung fu archetypes), Clive Reston was imagined as a rougher, less suave James Bond. Leiko Wu is another agent and love interest for Shang-Chi. The leak claims Sam Claflin (The Hunger Games) and Jessica Henwick (Iron Fist) are in the running for these roles.
Ex-James Bond actor Pierce Brosnan is "in talks" to play MI-6 director, Jack Tarr. Originally portrayed as a brutish Goliath and enemy of Shang-Chi, the character evolved into a more "gentleman adventurer" reminiscent of Ernest Hemingway mixed with Indiana Jones, and an ally of Shang-Chi. Originally a lowly agent, he rises up the ranks to become director of MI-6.
The Mandarin will have "enforcers" that will include: Shang-Chi's half-siblings, Moving Shadow and Fah Lo Suee (the leak calls her "Cursed Lotus"); the assassin M'Nai ("Midnight Sun" in the comics) who was Shang-Chi's childhood best friend; and the mad scientist, Lancaster Zhang.
The leak claims Awkwafina (The Farewell) is cast as Fah Lo Suee, while Joe Taslim (Fast & Furious 6, The Raid: Redemption) has been "approached" for Moving Shadow.
David Gyasy (Carnival Row) is in "advanced talks" for M'Nai.
The leak further names BD Wong (Law & Order: SVU) is cast as Lancaster Zhang. It's worth noting that the comics originally named him Lancaster Sneed, and that he was English, born as the nephew of Sir Denis Nayland Smith, the protagonist of Sax Rohmer's Fu Manchu stories.
Constance Wu (Crazy Rich Asians) is "in talks" for Mei Ling, Shang-Chi's mother. In the original Master of Kung Fu comics, Shang-Chi's mother was an unnamed, Caucasian American woman who didn't love Fu Manchu, but wanted to give birth to "a son who would be king."
Samuel L. Jackson will reprise his role as Nick Fury in the film.
Fin Fang Foom, a giant dragon, will also be featured in the movie.
Is any of this real?
Probably! Probably not! Production on Shang-Chi and the Legend of the Ten Rings, directed by Daniel Destin Cretton, is in extremely early stages, though it's a safe bet that a shooting script is finalized. But even if the 4chan leak is all fan fiction, it's very good fan fiction that shows someone did their homework.
A lot of the MI-6 stuff makes sense. For those unfamiliar, the original Master of Kung Fu comics weren't always straight kung fu comics, but many times pulpy spy adventures. Shang-Chi isn't just a kung fu master, he's an infiltrator and operative that could give James Bond a run for his money. In fact, the possibility of a former James Bond (like Brosnan) as Jack Tarr is meta-casting Marvel hasn't ever shied away from (see Robert Redford as S.H.I.E.L.D.'s Alexander Pierce in the '70s noir-inspired Captain America: The Winter Soldier).
A lot of the supporting, obscure characters come from Shang-Chi's long history of comics. Most are from the original 125 issues of Master of Kung Fu, like Shang-Chi's sister Fah Lo Suee and M'Nai, a child abducted by Fu Manchu after a British attack destroyed his African village. Moving Shadow was introduced in the 2002/2003 Marvel MAX miniseries Shang-Chi: Master of Kung Fu. Jack Tarr assuming directorship of MI-6 came from the 2015 Master of Kung Fu revival that took place parallel to the crossover event Secret Wars.
Fin Fang Foom and Shang-Chi haven't crossed paths in the comics. But in Avengers World issues #13 and #14, Shang-Chi did use Pym Particles to grow in size and wrestle against a centuries-old dragon.
In short, there's a lot of thought put into this "leak" that it could be valid. If it's a troll messing with fans, then this troll has done a lot of work reading up all of Shang-Chi's old comics and plotting out what Marvel Studios and Kevin Feige could do to reinterpret Shang-Chi's mythology.
If this is real, then Shang-Chi and the Legend of the Ten Rings will satisfy old school Marvel fans. If this is fake, well, it's still fun to think about.
Shang-Chi and the Legend of the Ten Rings will be released in theaters on February 12, 2021.