'Black Widow' leaks allegedly reveal Taskmaster's shocking true identity
This would be a pretty huge departure from the comics...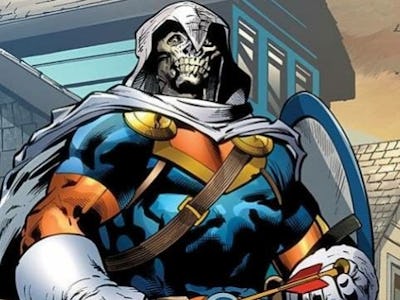 Marvel Comics
Black Widow is still a big mystery, but thanks to a few minutes of footage exclusively shown at San Diego Comic-Con and D23, we do know that the movie's villain will be the formidable Marvel baddie Taskmaster. However, even that detail may be murkier than it seems if a recent Black Widow leak is to be believed.
Warning: Possible huge spoilers ahead of Black Widow.
The latest Black Widow leaks come to us from 4chan via Reddit. So treat these with a huge sprinkling of salt (or paprika if you're more of a WandaVision fan). There's a lot in here, including the alleged reveal that Rachel Weisz plays a villainous Red Room operative abducting young women, that Weisz's character hires Taskmaster to hunt down Natasha Romanoff, and that the movie ends with Natasha "reconnecting with Steve Rogers and Sam Wilson."
We also learn a bit about Rick Mason, played by O. T. Fagbenle (Luke in Handmaid's Tale). According to the leaker, Mason is an old flame of Natasha's. In the comics, Mason is a freelance special agent who specializes in the "non-lethal handling of superhumans."
But the most interesting detail of all is Taskmaster's true identity, which has so far been hidden by Marvel Studios. (We don't even know which actor plays him in Black Widow). Here's the relevant part of the leak:
The main plot twist is that Mason is Taskmaster.
There are a few issues here, but the big one is that in the comics, Taskmaster is Tony Masters, a Brooklyn-born villain (and sometimes anti-hero) with the ability to perfectly imitate any physical movement. So how could Taskmaster be Rick Mason?
Of course, this wouldn't be the first time that Marvel Studios played it fast and loose with comic book canon. Scarlet Witch is supposed to be Magneto's daughter, after all, and James Gunn took some huge creative licenses with the Guardians of the Galaxy while introducing the lesser-known superhero team to the Marvel Cinematic Universe.
Mason's background as a freelance superhero fixer does lend itself to the version fo Taskmaster we're expecting in Black Widow, who seems like a bit of a mercenary himself. Plus, it would definitely be a huge twist if Natasha's old lover was the guy who's trying to kill her.
Unless Taskmaster is played by some top-secret unannounced cast-member, Rick Mason feels like as good an option as any. Then again, the same leak claims that "Jeremy Renner is also rumored to appear as Hawkeye." Could it be that the man behind Taskmaster's skull-shaped mask is none other than Clint Barton?
Black Widow sneaks into theaters on May 1.