"Managed retreat" from climate change isn't turning out the way we thought
New study raises as many questions as it answers, but researchers say that's the point.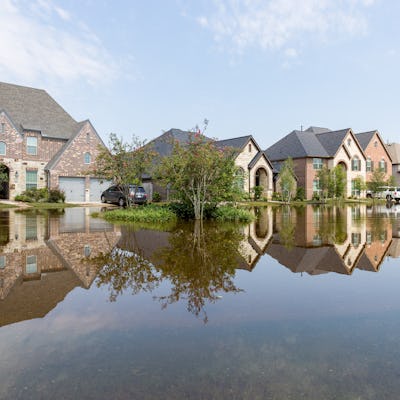 michelmond / Shutterstock
As climate change increases flooding worldwide, the idea of relocating structures in vulnerable areas may become less of a last resort and more of a future-thinking climate strategy.
In some places, this strategy is already being put into place.
It's called "managed retreat" and it involves the government buying land from people in areas at great risk of flooding, restoring those areas to open, undeveloped land. A new study, published Wednesday in the journal Science Advances, describes what some of these buyouts have looked like in the United States so far, and how trends can inform future policies.
"It is a good way to reduce disaster risk if you move out of hazardous places," Katharine Mach, Ph.D., lead study author and an associate professor at the University of Miami, told reporters on Tuesday.
"Really importantly, though, it's not a 'retreat or else' type of question," she said. "It's how retreat fits into our broader portfolios of climate change adaptation."
Moving out of one's home may seem like a severe reaction to flood risk, but it's already happening and has been for decades. After Hurricane Sandy devastated parts of New York City in 2012, residents of some of the hardest-hit areas on Staten Island decided not to rebuild in the vulnerable location; instead, they sold their homes to government buyout programs, as Mother Jones reports.
Joe Hernnkind, who had lived in the low-lying Ocean Breeze neighborhood there, told Mother Jones he realized "the land itself should never have been built on." He was among the applicants approved for a government buyout, but many were not as successful or didn't have a buyout option, like lower-income communities and those renting their homes.
The socioeconomic disparities of flood buyouts are among the points raised by the new study, an analysis of more than 40,000 voluntary buyouts of flood-prone properties. The authors say the findings open up new research questions about managed retreat.
Reviewing data from a Federal Emergency Management Agency (FEMA) buyout grant program, the researchers uncovered some curious trends. Buyout amounts have decreased since the program's 1989 start, even as the conversation around managed retreat has grown. Most of the buyouts occurred in wealthier, more densely populated counties; but within those counties, they were concentrated in lower-income areas.
Major gaps in the FEMA data also add to the complexity: The type of structure and residency on the bought-out property were each missing for half of the buyouts.
Harris County, Texas — where the city of Houston is located — was found to have the greatest number of FEMA-funded buyouts, with nearly 2,200 bought-out properties. Nine counties located across Texas, Missouri, Alabama, New Jersey, and North Carolina each had more than 500 buyouts.
Meanwhile, by contrast, about half of the 1,100 counties studied had fewer than 10 properties bought out. That fact is "fascinating," Mach said, and raises questions that need to be answered. Does that trend potentially signal that powerful homeowners are successfully influencing buyouts, for example?
The properties bought out include a range of different structure and residency types, but most of them were single-family homes and primary residences, the researchers found. While most buyouts were in flood-prone areas, not all of the riskiest areas had properties bought out.
"There are many more places that are at risk of flooding than are deploying huge number of buyouts," Mach said.
Income Disparities are Revealed
What the data doesn't show suggests big takeaways, too, and areas for further research. One situation to consider, the researchers said, is when the families being displaced by buyouts aren't the people selling the land. Although the FEMA buyouts are voluntary, for renters or people living in mobile home parks, a landowner may sell the property, forcing their tenants to relocate.
That kind of scenario underscores the need to study the socioeconomic effects of land management, the researchers said.
"The fact that we find income disparities suggest that we need new tools, new interventions, to modify this program if we want to support the full range of households that may want to relocate," said study co-author Miyuki Hiro, a postdoctoral researcher at the Stanford University's Woods Institute for the Environment.
Since more households are applying for federal buyouts than are actually approved, the data doesn't fully describe buyout demand, Hiro said; it doesn't include people who were denied, or got tired of waiting for approval and found another solution. And areas with local- and state-run buyouts aren't shown in the FEMA data, either.
Analyzing the data that's available now, though, gives the researchers insight into future questions they say we'll need to answer as a society. Although tens of thousands of buyouts have already taken place, they've generally been treated as ad hoc results, not parts of a broader pattern, Liz Koslov, Ph.D., assistant professor in the department of urban planning at the University of California, Los Angeles, tells Inverse.
"What this shows is retreat is already happening, and it's been happening at a scale that would surprise most people," says Koslov, who was a reviewer of the paper but not a part of the research team. "They're taking that first step to point out these broader patterns in how this funding is getting distributed."
The study raises points about the distribution of buyouts, laying ground for future research into whose buyout applications get approved and what options are given to those being bought out.
"It takes a particular kind of privilege to get access to these programs," Koslov says. "The findings really stress that where retreat happens is not totally down these physical factors like elevation, proximity to the coast. It also has a lot to do with political and social factors."
"It takes a particular kind of privilege to get access to these programs
In Louisiana, where land loss has reached crisis levels, a government program called Louisiana's Strategic Adaptations for Future Environments (LA SAFE) brought together about 3,000 community members across six parishes during a yearlong series of public meetings. Residents discussed and vote on mitigation plans in their communities.
That kind of inclusion is critical in decision-making, Steve Cochran, associate vice president of coastal resilience at the Environmental Defense Fund, tells Inverse.
"If we need to restructure communities, we need to make sure that we do that in equitable ways," Cochran says, and not simply "lock in" the inequities of the past.
He says it's important for communities to participate in designing their own future, "rather than having their futures handed to them either by the next storm or by some distant decision."
There's much at stake, Cochran says, as even under modest sea level rise scenarios, increased flooding will require some amount of population redistribution.
"It's pretty hard not to look at the science and expect that we're going to have a whole lot more of these decisions, and not less," he says.
The potential for managed retreat is widespread, Hiro said. Already, buyouts cover a broad range.
"It's not just low-lying coastal areas; it's not just deep in big river floodplain areas," she said. "It's communities all over the United States." In light of that, the new research provides a look at what "resilient communities might look like in the context of a changing climate."
Abstract: Retreat from some areas will become unavoidable under intensifying climate change. Existing deployments of managed retreat are at small scale compared to potential future needs, leaving open questions about where, when, and how retreat under climate change will occur. Here, we analyze more than 40,000 voluntary buyouts of flood-prone properties in the United States, in which homeowners sell properties to the government and the land is restored to open space. In contrast to model-based evaluation of potential future retreat, local governments in counties with higher population and income are more likely to administer buyouts. The bought-out properties themselves, however, are concentrated in areas of greater social vulnerability within these counties, pointing to the importance of assessing the equity of buyout implementation and outcomes. These patterns demonstrate the challenges associated with locally driven implementation of managed retreat and the potential benefits of experimentation with different approaches to retreat.