Massive 'Star Wars 9' leak spoils Kylo and Palpatine's shocking showdown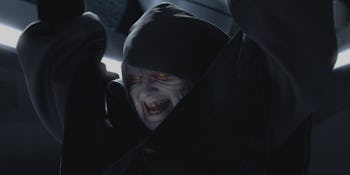 Lucasfilm
Another day, another bombshell Star Wars: The Rise of Skywalker leak. This time, we're getting an alleged rundown of the movie's final moments, and it sounds extremely epic. What happens to Kylo, Rey, and the Emperor at the end of Episode IX? We may finally have the answers.
Warning! Huge spoilers for Star Wars: The Rise of Skywalker ahead.
The latest leak comes from Making Star Wars, which offered a detailed breakdown of Episode IX's final showdown. We don't find out the final outcome, but we still learn a lot. Most notably, that Emperor Palpatine will toss Kylo Ren to his death much like Darth Vader did to Palps back in Return of the Jedi.
Here's a key chunk from the new Rise of Skywalker leak:
The final confrontation of the Skywalker Saga takes place on the dead world of Exogol. Darth Sidious has thrown Ben Solo into the abyss. I have heard Ben falls into the mist, much like Han Solo's death in The Force Awakens and it visually rhymes. I believe this happens after Rey and Ben are drained by Darth Sidious. In the end, Rey weakened and seemingly alone for the final confrontation.
As MSW notes, before this happens, Palpatine uses Rey and Kylo to form that much-rumored Force dyad, which generates enough energy to bring the Emperor back to his former glory. After that, old Palps become more powerful than ever, resembling the way he looked at the end of Revenge of the Sith while rocking a "red/burgundy robe with a black hooded tunic over the robes" and "a black belt with a silver buckle on it with a red light offset to the righthand side."
But enough about Palpatine's new lewk. What happens to Kylo Ren? As MSW notes, this isn't the first time a Star Wars character has fallen from great heights and presumably died. As we know, thanks to the Emperor, that sort of death isn't always permanent. So is Kylo really gone? We can't say far sure.
"If Ben is resurrected, sources are not aware of it," MSW explains.
Of course, it's possible that Kylo Ren/Ben Solo could come back in other ways. If he redeems himself in Episode IX then he could return as a Force ghost. And based on the rest of this leak, Rey will need an entire team of old Jedi to help her as she rises up to battle the Emperor on her own.
Again, we don't know what happens after that, but we're pretty sure this movie isn't called Star Wars: The Rise of Palpatine.
Star Wars: The Rise of (Rey?) Skywalker hits theaters on December 20.