Everything you need to know about bullseyes for 'Fortnite' week 9
Take steady aim at these three landing destinations for a new challenge.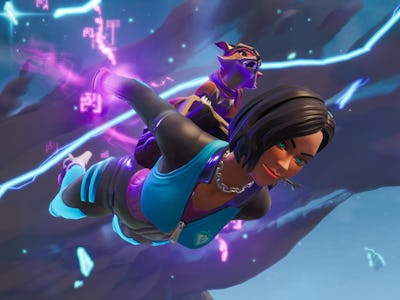 Epic Games
Accuracy is everything in Fortnite: Battle Royale Season X, Week 9 with the new "Bullseye!" challenges that involve huge bullseyes, skydiving courses, headshots, and other precision maneuvers. The very first challenge has players "land on different Bullseyes" three times, and based on what everyone is seeing on the map, there are only three options out there.
Straight out of the battle bus, each bullseye is easily visible from the sky. They're huge and pulsate outward with a neat little animation that makes them virtually impossible to miss. All players have to do is land on or near the center to get credit for the challenge. This means you'll have to complete this challenge over the course of three matches, but considering that this is the first challenge in the set, the high volume of enemy players flocking to these same destinations will put you at greater risk of getting eliminated early on.
You can hit these in any order, so you might as well target whichever is closest based on your battle bus' trajectory. There's one southeast of Frosty Flights, and another between Snobby Shores and Tilted (now Gotham City in honor of Batman). The third is northeast of Lucky Landing and southeast of Fatal Fields.
It's worth bearing in mind that the fifth Bullseye! challenge will ask you to "complete the skydiving course over Fatal Fields after jumping from the battle bus." That means if you complete any two of the following challenges first, you can probably do the skydiving course and land on the bullseye northeast of Lucky Landing in the same dive.
Hit Weak Points while harvesting
Get an elimination with a Sniper Rifle
Hit easy firing range target
Only three of the total seven challenges will be active at any given time, so that means players will first have to "hit weak points" or "get an elimination with a sniper rifle," then do a second challenge from the set before the skydiving course unlocks. Those obsessed with efficiently completing challenges might go this route, but it doesn't feel necessary when this landing on bullseyes is so straightforward and easy to complete.
Fortnite: Battle Royale Season X is currently scheduled to end on Saturday, October 5.