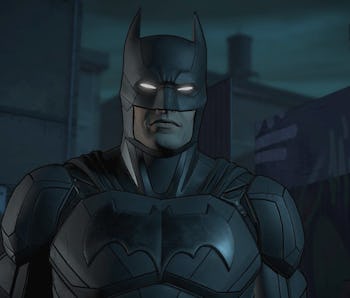 Gaming
'Fortnite' Week 8 Batman Loading Screen & Secret Battle Star Guide
Warner Bros.
The weekly secret loading screen challenge for Fortnite: Battle Royale Season X, Week 8 is much cooler than usual because this week's limited-time mission set, released Thursday morning, is at least vaguely Batman themed! While the mission is technically called "Gothic," the Gothic city that the loading screen teases looks suspiciously like Gotham.
Previous leaks connected this loading screen to a Batarang, a Batman Grapnel gun, and other cosmetics that might include a bonafide Batman outfit. However, none of the Gothic challenges are explicitly Batman related. Instead, they're this:
Deal damage to opponents in a single match
Land at Salty Springs or Junk Junction in different matches
Suppressed weapon Eliminations
Search an Ammo Box in different named locations in a single match
Search Chests at Hot Spots
Visit Retail Row and The Block in the same match
Deal damage with SMGs to opponents
Per usual, this limited-time mission will only be around for a week, with new challenges released daily. Once players complete three of these challenges, they'll unlock the Gotham-esque loading screen.
The scene in question is of a Gotham Gothic city rumored to soon replace Tilted in a brand-new Rift Zone. Etched into the side of a gargoyle are coordinates: G2, G3, H2, H3.
Those coordinates in turn lead to a location north of the volcano just south of the hot springs where there's usually a collection of volcano vents. The secret battle star should materialize atop a strange-looking pile of brown rocks.
Like all loading screen challenges this season, this one will only be available until "Gothic" ends at the start of the next weekly reset on Thursday. And the earliest that players can complete enough challenges to unlock the loading screen and therefore access the battle star is Saturday when the third challenge unlocks around 9 a.m. Eastern.
That also happens to fall on September 21, which is Batman Day and the rumored start time of this Fortnite x Batman event everyone is talking about. It should make for an exciting weekend in Fortnite.
Players have until 9 a.m. Eastern on Thursday, September 26 to access "Gothic" challenges, the loading screen, and the treasure that it leads you to.