Why the 'Avengers 5' Ghost Rider rumors won't flame out any time soon
This just might really happen.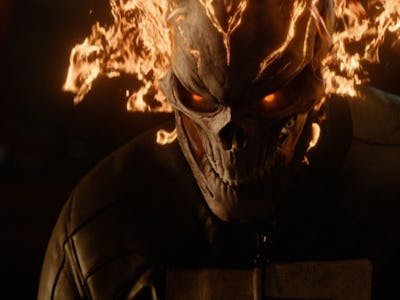 ABC
Rumors began circulating earlier this week that when Avengers 5 comes around, Earth's mightiest heroes could be joined by a familiar flaming anti-hero ruled by vengeance. But will Ghost Rider, an ultra-violent Marvel Comics character whose hellish powers melt his own flesh and transform his head into a flaming skull really join the aggressively PG-13 Marvel Cinematic Universe? It's not as ridiculous as it might seem.
This rumor seemingly originates from regular franchise movie news leaker and Super Bro Movies writer Daniel Richtman, who has accurately reported the upcoming Funko Pop movie, incorrectly reported that Rian Johnson lost his Star Wars trilogy, and then earlier this month, claimed Marvel Studios had plans for a Phase Five Young Avengers and/or Champions team-up show for Disney+ — which is to say that he's sometimes right and sometimes wrong just like the rest of us.
Richtman tweeted a GIF of the Robbie Reyes versions of Ghost Rider from Agents of S.H.I.E.L.D. Monday morning with the caption "Feige wants him too," referencing how Hulu announced in May plans to develop a TV show using the character.
Richtman followed up in a second tweet that they "Will likely use a different version tho." His assumption was that rather than Gabriel Luna's Robbie Reyes that Hulu would have adopted from Agents of S.H.I.E.L.D., Marvel Studios President Kevin Feige would use a different iteration of the character. The obvious alternate would be Johnny Blaze, the original Ghost Rider once portrayed by Nicholas Cage in a pair of movies.
Despite a firm line between Marvel TV and the Marvel Cinematic Universe, this wouldn't make a lot of sense — but on Wednesday things became much clearer.
On Wednesday afternoon, Deadline reported that Hulu wasn't moving forward with the Ghost Rider series. "Hulu and the Ghost Rider team had reached a creative impasse which could not be resolved, leading to the streamer's decision not to move forward with the series," they wrote. The article also confirms that this would indeed have been the same actor and character from Agents of S.H.I.E.L.D.
That same afternoon, Richtman tweeted that Feige took Ghost Rider away from Marvel TV's Jeph Loeb, along with other characters like Blade, Moon Knight, Werewolf by Night, and Midnight Sons because he had plans for all of them in films. We now know that's true for Moon Knight and Blade. Interestingly enough, Bounding Into Comics reported on a rumor that some version of Ghost Rider might cameo in the Blade Mahershela Ali movie, but that won't release for several years.
Will Feige's Ghost Rider be closer to Nicolas Cage's version of the classic motorcycle rider?
In one alternate reality in the Marvel Comics multiverse, Thanos destroyed all the inhabitants of Earth, and Frank Castle, aka the Punisher, was one of the last survivors. "Just before dying himself, Castle called out for vengeance and got it from Mephisto by becoming the new Ghost Rider," an official Marvel summary reads. Some time later, he volunteered to become a herald of Galactus.
That sort of makes this character the Punisher, the Ghost Rider, and the Silver Surfer all wrapped up into one hellish space warrior who has no problems with killing.
The MCU has grown more and more neutral over the years, seemingly to appeal to as wide an audience as possible. That's proven so successful a business model that Disney has no idea what to do with Deadpool now that the company also owns 20th Century Fox. So how will they make a character this gnarly fit in alongside Captain Marvel and the rest of the Avengers?
Ghost Rider in the MCU remains unconfirmed — but it's definitely an exciting prospect.