'Young Avengers' Rumored for Disney Plus. Here's the Most Likely Team.
Examining all the major candidates from Marvel's Phase Four and beyond.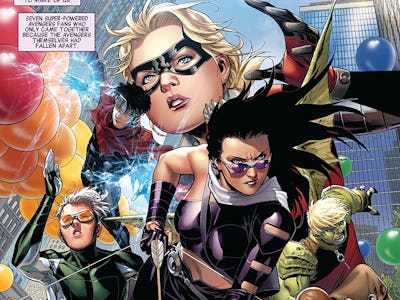 Marvel Comics
The Marvel Cinematic Universe was forever changed after Avengers: Endgame, and as the MCU careens towards Phase Four and beyond, rumors are circulating about how a new superhero team based on the Young Avengers from Marvel Comics might be formed in the coming years. What might that team look like?
Earlier this week, Full Circle Cinema reported that Marvel Studios was interested in producing a live-action Young Avengers story, all based on a short video published by regular franchise movie news leaker and Super Bro Movies writer Daniel Richtman. (Keep in mind that Super Bro Movies also incorrectly reported that the Rian Johnson Star Wars movies had been canceled. So treat this with a grain of salt.)
"Marvel are developing a Young Avengers/Champions show for Disney+," Richtman claims. "A movie is possible but I hear they really want it to be a limited series."
YouTube is an odd place for a tidbit of information perfectly suited to a tweet, but if this turns out to be true, we can't help but wonder who would be part of a Young Avengers team.
Kieron Gillen and Jamie McKelvie's Young Avengers Marvel Comics series in 2013 team included Wiccan (Billy Kaplan), Hulkling (Teddy Altman), Hawkeye (Kate Bishop), Kid Loki, Miss America (America Chavez), Noh-Varr (formerly Marvel Boy), and Prodigy (David Alleyne). Marvel's Champions are a similar team of young heroes like Mile Morales' Spider-Man, Ms. Marvel, Vision's daughter, and others. Any youthful superhero team assembled in the MCU would probably include a smattering of these characters — including several we've already met or we know are in the works.
In a world where Disney and Sony still shared Spider-Man, Tom Holland's version of the webslinger would've made a perfect pseudo-veteran superhero leader of the Young Avengers, but since the two studios refuse to split custody and Spidey is the sole property of Sony now, that likely won't happen. If it does, it'll take several years.
Who does that leave? Here are five possibilities:
5. Harley Keener, aka Iron Lad
After six years being absent from the MCU, Harley Keener (Ty Simpkins) was reintroduced at Tony Stark's Avengers: Endgame funeral. The scrappy, inquisitive kid from Iron Man 3 was back for some reason. One possible explanation for this is that Keener might one day go on to be an alternate version of Iron Lad, donning a similar Iron Man suit in a new age.
4. Riri Williams, aka Ironheart
Earlier this September, indomitable rumor mill We Got This Covered filed a sketchy report claiming inside sources had revealed Robert Downey Jr. would return to the MCU as an artificial intelligence for an Ironheart series. While we wouldn't take this report too seriously, we did previously theorize this was possible upon Stark's death in Avengers: Endgame based on a comics storyline where Stark has his A.I. essence posthumously sent to a brilliant young woman who builds her own Iron Man-esque suit from scratch.
Whether it's Iron Lad, Ironheart, or both, the MCU will have its fair share of flying mechanized suits long before Morgan Stark grows old enough to wear her own.
3. Cassie Lang, aka Stature
Since her adorable debut in Ant-Man, Scott Lang's daughter Cassie Lang has been one of the most charming and smart kids we've seen in the MCU. In Ant-Man and the Wasp, she expressed a desire to team up with her father as a superhero. We know from Avengers: Endgame that she survived the Decimation and grew five years older while her father was trapped in the Quantum Realm.
Ant-Man 3 isn't in the works so far, but it's possible that Cassie might use her father's old suit to become her own kind of superhero.
2. Kate Bishop, aka Hawkeye
We know for a fact that the Hawkeye Disney+ series scheduled for release in fall 2021 will feature Jeremy Renner's Clint Barton as he trains his protege and replacement Kate Bishop. We have no idea of knowing what her approximate age might be, but as of this writing, she's the only confirmed hero for Phase Four that will almost certainly wind up in some kind of Young Avengers group. She won't have any superpowers, so that might make her the perfect candidate to lead the team, similar to how Batman leads the Justice League.
1. Kamala Khan, aka Ms. Marvel
Perhaps the most exciting announcement to come out of Disney's D23 expo was the development of a Ms. Marvel series for Disney+. The series will introduce Kamala Khan, a young Inhuman with the ability to shrink, embiggen, or change the shape of any parts of her body.
She's something of a sidekick to Captain Marvel in some respects, but she also holds her own as a key member of the Champions.
Young Avengers remains unconfirmed, but if it does happen, it'll probably be in Phase Five or later, so don't expect it anytime before 2022.