Here's when you can buy 'Joker' tickets, which is really, really soon
Director Todd Phillips just spilled when you can nab tickets for Joaquin Phoenix's villainous transformation.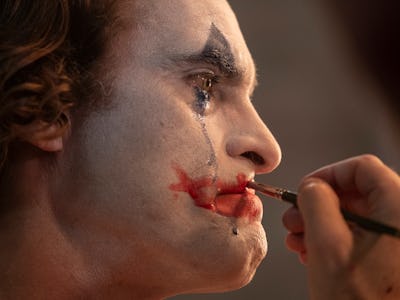 Warner Bros. Pictures
Want to put a smile on your face? Tickets for Joker, Todd Phillips' grounded take on the Batman villain played by Joaquin Phoenix, will go on sale very, very soon. How soon? Put it this way: You could buy something on Amazon Prime and it could still arrive after you've bought your ticket.
On Instagram, director Todd Phillips answered a fan asking when tickets for Joker will finally go on sale. Phillips, whose comment was buried in Instagram's awkward user interface, responded, "to my knowledge tickets go on sale this Monday Sept 23 9am EST."
There you have it. Joker tickets go on sale Monday.
Next to Avengers: Endgame and Star Wars: The Rise of Skywalker, the movie is one of the most hotly anticipated of the year. If only to see Phoenix attempt to take the late Heath Ledger's title for the Best Joker of All Time, in a comic book movie so grounded in a stylized period reality it doesn't even seem to have Batman anywhere.
Joker, a film disconnected from the DCEU, debuted at this year's Venice Film Festival and TIFF, where it took home the coveted Golden Lion award. (Previous recipients include Alfonso Cuarón's Roma and Guillermo del Toro's The Shape of Water.) Reviews have been more or less mixed, ranging from high, enthusiastic praise (IGN, JoBlo) to cautious concern due to the film's associations with white male rage (Vox, Jezebel). This only means the movie will have an audience, so you'll want to get your ticket if you hope to see it opening weekend.
Directed by Phillips, who is best known for directing the Hangover trilogy, tells the untold origin story of Batman's nemesis, the Joker. Inspired by Martin Scorsese films of the '70s, like Taxi Driver and The King of Comedy, the film more or less appropriates the Joker from DC Comics into a character study about one man who is pushed to the brink by his ostracizing from society. (Guys, I'm trying very hard not to outright say, "We live in a society.")
Meanwhile, Joker isn't the only show to have tickets available this weekend. The Green Day/Wheezer/Fall Out Boy tour in 2020 will go on general sale also this weekend. And sort of like the Joker, if I hear one song from Raditude, I too will go through the emergency exit.
Joker will be released in theaters on October 4.