Anti-facial recognition tweets go out. Live Nation claims "misinformation."
As a privacy campaign kicks off, the largest concert promoter in the country says it has no plans to use the tech in which it's invested.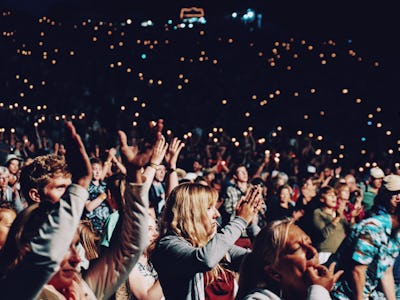 Unsplash / Ezra Jeffrey-Comeau
A campaign launched this month by the advocacy group Fight for the Future to ban facial recognition at music festivals has gained support from artists as diverse as Rage Against the Machine's Tom Morello, the rapper Atmosphere, the punk group Anti-Flag, and EDM group The Glitch Mob, in the days since its debut.
A tweet from Fight for the Future — an open internet, privacy-focused non-profit — on Tuesday called out major music festivals Coachella, South by Southwest, Electric Daisy Carnival, Riot Fest, and Bonnaroo to not allow facial recognition technology.
The campaign is essentially sending this message: Facial recognition will be worse than the worst music festival of them all, Fyre Fest.
"If you thought Fyre Festival was a scam, wait until private corporations who run music festivals are harvesting your sensitive biometric data, and using it for advertising or god-knows-what, while claiming it will get you through the line faster," Evan Greer, deputy director of Fight for the Future, told Inverse Tuesday.
This effort comes in response to LiveNation, which owns Ticketmaster, announcing in May 2018 that it had partnered with a facial recognition technology firm called Blink Identity as a possible way to replace tickets, so music fans could "just walk into the show."
Here's the line from that announcement:
It is very notable that today we announce our partnership with, and investment in, Blink Identity which has cutting-edge facial recognition technology, enabling you to associate your digital ticket with your image, then just walk into the show.
This is no small matter, as LiveNation and its subsidiary Ticketmaster nearly run the major concert market in the United States. It was famously criticized by Bruce Springsteen a decade ago as it grew in size to "near-monopoly" status, in the words of the classic rocker.
Live Nation, like other companies, has seen the landscape shift beneath its feet, as distrust of how facial recognition technology, and technology generally, can be used against the public when the perceived intention was just to make our lives easier. (Imagine, just walking into a concert. No will-call. No line. No hand stamps. You still might get hassled by a bouncer.) What felt innovative as short a time ago as May 2018 now might feel verboten. Enter groups like Fight for the Future, which sees even more opportunities to shine a light on privacy-first issues.
"We've already started to see some significant music festivals and promoters coming out and making clear commitments that they won't use this technology on fans at their events," Greer says. A punk rock party in Las Vegas called Punk Rock Bowling and Seattle promoter USC Events recently made this commitment. Greer says she thinks larger companies will get on board soon.
"There has been some real misinformation." — Carrie Davis, Live Nation
Meanwhile, Carrie Davis, a media representative for Live Nation, tells Inverse the company has contacted Fight for the Future to make clear its position. (Greer denies this: "I haven't gotten a single email from them about this campaign, even though they're telling reporters they've reached out to us.")
Essentially, Davis says Fight for the Future has got it all wrong. In an email on Tuesday, Davis told us this: "There has been some real misinformation on what Ticketmaster and Live Nation are — or rather are NOT doing with facial recognition."
Davis also shared this official statement, using the word "currently" to qualify its plans for facial recognition tech.
Ticketmaster is always exploring new ways to enhance the fan experience, and while we do not currently have plans to deploy facial recognition technology at our clients' venues, rest assured, any future consideration would be strictly opt-in, always giving fans the right to choose.
Greer, the Fight for the Future deputy director, contends that "opt-in" is where things get sticky: "If Ticketmaster isn't planning to use facial recognition for surveillance purposes, then why not explicitly commit to that?"
Greer also argues that not only could this technology be used in nefarious ways on tens of thousands of people while they're at the festival, but the data could be used elsewhere after the festival is over.
For example, Greer says, while fans are at a festival this technology could be used to track them as they move around and to target advertising at them. This data could even end up in the hands of law enforcement and immigration agencies, she speculates. After the event, she says there's no telling where this data could end up, not to mention the nature of its security.
"Music festivals are supposed to be a place where you can go and be yourself, and it's really impossible to be yourself if you feel like you're constantly under surveillance and being watched — any type of minor infraction could be punished in an automated fashion," Greer says.
Greer notes that concert-goers shouldn't underestimate where this technology is going.
"I think it's important that people understand the future implications of this technology." — Evan Greer, Fight for the Future
"I think it's important that people understand the future implications of this technology and the ways that it's evolving," Greer says. "Corporations and governments are looking to use this technology not just to identify people but to predict their actions and, essentially, to try to read their emotions. Amazon's commercial facial recognition system claims to be able to detect emotions like fear. That could be used and abused in so many different ways."
And while Davis says anything Ticketmaster may do with facial recognition will always be "opt-in," there are well-documented errors with the technology, if not well-documented malice. Topping the list of problems is racial bias. Researchers have found facial recognition technology is worse at identifying people of color than white people, creating the chance it will misidentify people of color, and there are many serious consequences that could come with that.
"This could lead to fans who are people of color being subjected to additional screening or being harassed when entering a festival. It could lead to people not showing up, for fear that a facial recognition algorithm could misidentify them," Greer says. "It could lead to undocumented fans being targeted by immigration enforcement. There's really a wide range of harms that could occur here."
For its part, Blink Identity, the vendor that LiveNation "partnered" with in 2018, has a very conspicuous "Privacy First" page on its website where it asks itself the question, "Are we being ethical?" That answer begins, "Just because you can do something doesn't mean you should."
Davis, the Live Nation rep, says that while LiveNation also participated in a seed investing round in Blink Identity last year, that doesn't mean the company has plans to use the tech at all, which could be seen as a hint of contradiction with the sentiment made in the Live Nation Q1 2018 earnings statement, wherein the company said the tech would enable "you to associate your digital ticket with your image, then just walk into the show."
"We invest in a broad array of technology companies — which does not necessarily mean we work with the companies we invest," Davis tells Inverse.
Blink Identity technology is also reportedly being tested out in England by Manchester City Football Club.
Additional reporting by Nick Lucchesi.
This story was updated at 1:11 p.m. Eastern on September 18, 2019 with additional comment from Fight for the Future deputy director Evan Greer about Live Nation's opt-in policy and to deny that Live Nation has contacted Fight for the Future.